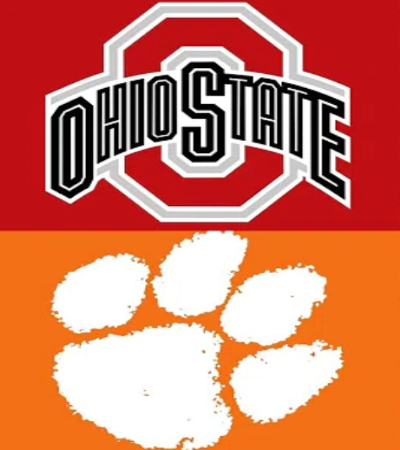 This is a weird College Football Playoff matchup in which one team (Clemson) played 11 games and its opponent (Ohio State) played just six. It's also a repeat of last year's meeting in which Clemson used a bit of luck to win 29-23.
The odds are similar to that matchup with the Tigers an early -7.5 point favorite with an over/under of 65.5 for the Sugar Bowl played in the Mercedes-Benz Superdome in New Orleans.
Ohio State will always get money because of the name, but after six games, they don't seem as dominant as prior seasons. That was seen in the Big Ten Championship Game when they scored just 22 points against Northwestern.
While they ran for 399 yards, it's unlikely teams like Clemson or Alabama would be held to 22 points against anyone in the country. 
Buckeyes Defense Unknown
OSU's defense also remains an unknown due to a lack of competition. Outside of the matchup against offense-deficient Northwestern, OSU's lone game against a team with a winning record was Indiana in which it won 42-35.
Most relevant from that game was that Indiana's quarterback threw for 491 yards and five touchdowns. If Michael Penix can do that, Trevor Lawrence can surely do the same.
Ohio State's defense was a strong suit last season, but everything shouldn't be put into that matchup. While the quarterbacks are the same, the defenses are much different for both teams and that's where Clemson probably has an edge.
Clemson Good for 30+
No matter, it's hard to see Clemson being held to 29 points again which is why the over/under is above 60. Lawrence was set to compete for the Heisman until COVID-19 hit, but he still managed to average 9.6 yards per pass on 69.2% completion for 22 touchdowns and four interceptions.
While he only has 211 rushing yards (and seven more touchdowns), he's mobile when needed, as seen in last year's CFP. Of course, running back Travis Etienne is another threat, racking up 882 rushing yards, 524 receiving yards and 15 total touchdowns. He's just the third option in the passing game behind receivers Amari Rodgers and Cornell Powell. 
If Clemson scores as expected, it's up to Justin Fields and company to stay competitive. While Clemson's defense has had some bad games this season, it's also stepped it up toward the end of the year, allowing 17 points or less in each of the last three games, including the big 34-10 win against Notre Dame. 
There's a chance the public leans toward Clemson because Ohio State struggled to score against the only legit defense faced on the schedule. And even though OSU's offense had success in last year's matchup, they scored just 23 points despite totaling more than 500 total yards.
Justin Fields opened the season fine, but his overall numbers don't stand out through six games, averaging 9.3 yards per pass on 72.6% completion for 15 touchdowns and five interceptions.
Fields Has Two Targets
He also only passed to two receivers, which is something Clemson can focus on. Garrett Wilson and Chris Olave have been great, but they're the only receivers with more than nine receptions on the team.
Similar to Lawrence, Fields can also be lethal on the ground, but it was Trey Sermon who stood out against Northwestern, rushing for 331 yards on 11.4 yards per carry. That's unlikely to happen again, but he may have a bigger role depending on the injury to Master Teague.
This is expected to be a battle of the No. 1 and No. 2 picks in the upcoming NFL Draft. Lawrence is believed to be better than Fields and if you throw in a better defense, it's easy to see why Clemson is favored. The question is if Ohio State's defense can step up and if Fields is ready to outshine the No. 1 pick.
Our Pick
While Northwestern held the Buckeyes to 22 points, there's no denying that Justin Fields and Company can put points on the board.
Most would agree that the Ohio State offense is likely more potent than the offense of Notre Dame. We mention that because of what Notre Dame was able to do in their first game against Clemson.
The Tigers are no defensive juggernaut. With that in mind, we're going to back the underdog Buckeyes here under these very unusual circumstances.
We'll do so with one caveat. Our model likes Clemson. Using full season data the model says Clemson wins by 8, 33-25. However, we simply don't feel 6 games for Ohio State is enough to tell the whole story in terms of predictive value, in a game of this magnitude.
Ohio State +7.5