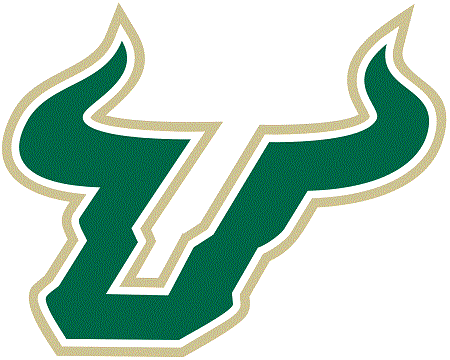 After a three-year regression under Charlie Strong, South Florida moved onto Jeff Scott, the former co-offensive coordinator at Clemson who had been with the school for more than a decade.
The Bulls had some issues last season en route to a 4-8 record and it's expected that it will take Scott more than a year to turn them around. They had an early over/under of 4.5 wins with +4000 odds to win the AAC.
Offense Needs to Improve
After a wretched campaign, averaging 330.8 yards and 20.8 points per game, USF will lean on Scott and coordinator Charlie Weis Jr., previously at FAU. In more of a pro-style offense, UNC transfer Cade Fortin is expected to start under center, though Jordan McCloud will put up a fight.
McCloud doesn't have much to show after starting 10 games last year, averaging just 6.4 yards per attempt for 12 touchdowns and eight interceptions. With new coaches, a lot of positions will be up for grabs and that includes an underperforming line that returns three starters.
Running back will likely be a committee with Johnny Ford (103 yards) expected to have a bigger role after disciplinary issues last year. Kelley Joiner also showed some sparks last season en route to 364 yards on 5.1 yards per carry.
The numbers at receiver are poor, mostly because of last year's offense. Randall St. Felix, Bryce Miller and Eddie McDoom are all back, so the quarterback will at least have options to throw to, assuming those guys are ready for more work in a hopefully better offense.
Defense Gave up 400 ypg
The defensive side has similar improvement to do after allowing 398.1 yards and 28.9 points per game. New coordinator Glenn Spencer also comes from FAU, but he also spent a few years as DC at OK State and Charlotte.
The biggest question comes up front where the Bulls couldn't stop anyone last year, giving up more than 200 rushing yards per contest. Some starters return and there are seniors with experience, but those guys have to do a little more.
Helping things, linebacker is in a decent situation with Dwayne Boyles (75 tackles, 12 TFL) a threat on the outside, while the back end is filtered with upperclassmen.
Cornerbacks Mike Hampton and KJ Sails could be one of the better duos in the conference, which isn't often said for a team expected to finish near the bottom of the standings.
Bowl Game In Doubt
USF has some way to go before it can be considered one of the better teams in the AAC again. It doesn't help that Scott opens his tenure with a trip to Texas, as well as a game at FAU in late September.
Because of the schedule, reaching a bowl game will be difficult. The Bulls will need at least two non-conference wins, while home games against ECU and Tulsa also have to be wins.
Unfortunately, they play the expected best three teams in the AAC and will have to find an upset against a team like Navy or Temple. Jeff Scott brings something new to the Bulls, but it will be a process and unless his quarterback really pops in a new system, it'll be tough for this team to reach six wins.
2020 South Florida Bulls Schedule
Sept. 5 at Texas
Sept. 12 vs. Bethune-Cookman
Sept. 19 vs. Nevada
Sept. 26 at Florida Atlantic
Oct. 3 at Cincinnati (early preseason line USF +14)
Oct. 10 vs. East Carolina
Oct. 17 at Temple
Oct. 23 vs. Tulsa
Nov. 7 at Memphis
Nov. 14 at Houston
Nov. 21 vs. Navy
Nov. 27 vs. UCF