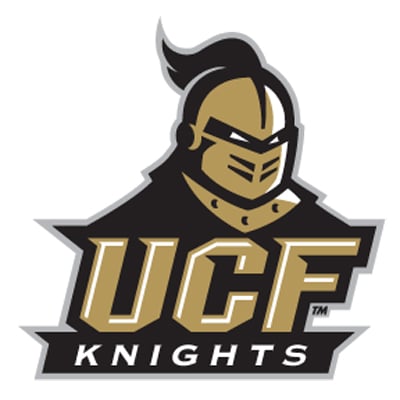 Last season didn't exactly go to plan for UCF, but it still managed a 10-3 record with a bowl win over Marshall in the second year under Josh Heupel.
Even with a quarterback question before the season started, the Knights rolled from the start, but defensive lapses led to their three losses. More success is expected in 2020 with an over/under of 10 wins and +130 odds to win the AAC, best in the conference.
Powerful Offense
There's no reason for the offense to take a step back after being one of the top groups in the country, averaging 540.5 yards and 43.4 points per game. Freshman quarterback Dillon Gabriel took the lead and didn't look back, tossing 29 touchdowns and only seven interceptions on 9.2 yards per attempt.
He should be set for another top season with a decent amount of tools around him, including three returning linemen to go with a transfer tackle from Tennessee.
Running back may be the most-loaded position on the team with Otis Anderson (726 yards, 5 TDs), Bentavious Thompson (604 yards, 8 TDs) and Greg McCrae (529 yards, 7 TDs) all set for another season.
Gabriel will have to find another No. 1 wide out, but there are options with Oklahoma transfer Jaylon Robinson, as well as a slew of returning seniors led by Tre Nixon (830 yards, 7 TDs) and Marlon Williams (717 yards, 6 TDs).
Defense Should be More Consistent
The defensive side is where UCF struggled against better competition last season despite allowing a solid 344.8 yards and 22.8 points per game.
The good news is that the front end should be more consistent with a decent core of returning starters, including tackle Kenny Turnier and end Randy Charlton.
It's a similar situation at linebacker where Eriq Gilyard and Eric Mitchell provide experience, while a couple sophomores are expected to provide solid depth.
The secondary is probably the best unit for the defense with a slew of returning seniors led by safeties Richie Grant and Antwan Collier.
If cornerback Brandon Moore can return to form after missing most of 2019 with an injury, that'd be another boost to the back end.
10 Wins on the Table
If things come together as expected, UCF will win its opening game against UNC, which would be a huge victory. If that happens, the Knights could open the campaign with a 5-0 record before a trip to Memphis.
Even with that road game, the schedule is favorable as Houston may be their next-toughest road trip. If the Knights can get past UNC in the opener, that should lead to at least 10 wins unless something goes wrong elsewhere.
The offense should again be one of the best around and if the defense can get to another level with more depth, that would take away random losses, like the one to Tulsa last season.
With an over/under at 10, it's not difficult to take the over and if they only lose to UNC and Memphis, you'd get your money back.
2020 UCF Knights Schedule
Sept. 4 vs. North Carolina (early preseason line UCF -3)
Sept. 12 vs. Florida International
Sept. 18 at Georgia Tech
Sept. 24 at East Carolina
Oct. 3 vs. Tulsa
Oct. 16 at Memphis
Oct. 24 vs. Tulane
Oct. 31 at Houston
Nov. 7 vs. Florida A&M
Nov. 14 vs. Temple
Nov. 21 vs. Cincinnati
Nov. 27 at South Florida