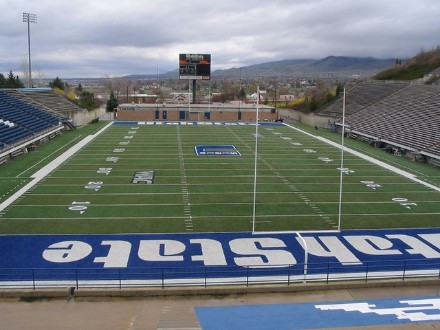 Utah State struggled with consistency last season en route to a 7-6 record and 51-41 bowl loss to Kent State. Better things were expected from the Aggies in Gary Andersen's return to the team, especially with quarterback Jordan Love, but that changes in 2020.
They had an early over/under of 5.5 wins with +2500 odds to win the MAC, near the bottom of the conference.
Even with Jordan Love last year, the offense wasn't overly great, averaging 431.3 yards and 29.2 points per game. Now with new coordinator Bodie Reeder from North Texas, Utah State will look a bit different.
Henry Colombi is expected to take over at quarterback after serving as backup, but that role is by no means locked down. The biggest help to the new quarterback is that the line returns all five starters.
That being the case, it wouldn't be surprising if the Aggies leaned more on the ground game after both running backs averaged more than 5.0 yards per carry last season.
Jaylen Warren (569 yards, 5 TDs) should lead the backfield with a number of younger players set to steal carries. Receiver is in a slightly better situation thanks to the return of Jordan Nathan (581 yards) and Deven Thompkins (536 yards, 4 TDs).
This offense could be better than last year, but with a new quarterback and coordinator in a limited offseason, that's far from guaranteed.
The defense could be in a better situation after allowing 431.4 yards and 29 points per game, oddly almost identical to the offensive side. Due to injuries last season, a lot of backups got playing time which should help the depth this year.
The biggest improvement is expected to come on the line after allowing almost 200 rushing yards per contest. End Justus Te'i has the most experience up front, but UCLA transfer Marcus Moore will help.
Linebacker may be the best unit on the team in the 3-4 scheme with Troy Lefeged (104 tackles) and Kevin Meitzenheimer (89 tackles) the leaders in terms of tackles.
It's the same case with safety Shaq Bond who runs the back end. The players are there, they just have to do a bit more than a year ago.
Given the over/under, getting to a bowl game should be the main thing on Andersen's mind. After last year's disappointing campaign, finishing with five wins would be even worse.
The problem is the schedule with early games against Washington schools and then a trip to BYU. It doesn't get better because MWC play begins with SDSU and BSU. To reach six wins, the Aggies will likely need to close on a run, winning four of five or their final six games.
That's possible because the schedule eases up, but only if the offense gels with a new quarterback and the defense can figure things out and stay healthy.
2020 Utah State Aggies Schedule
Sept. 3 vs. Washington State
Sept. 12 vs. Southern Utah
Sept. 19 at Washington
Oct. 2 at BYU
Oct. 10 vs. San Diego State
Oct. 17 at Boise State
Oct. 24 vs. New Mexico
Oct. 31 at Nevada
Nov. 7 at Wyoming
Nov. 14 vs. Fresno State
Nov. 21 at Colorado State
Nov. 28 vs. Air Force