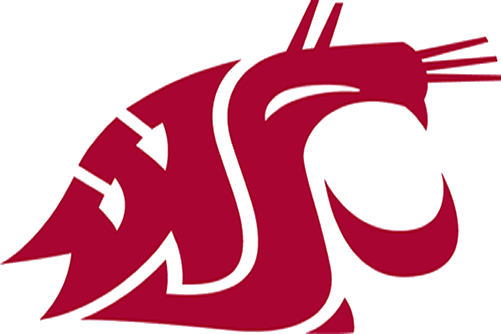 After turning Washington State into an annual Pac-12 contender, it was time for Mike Leach to move to the SEC. Coming off a somewhat disappointing 6-7 season, Wazzu turned to former Hawai'i coach Nick Rolovich, who hit seven wins in three of his four years in charge.
The Cougars are again expected to be around that six-win mark with an early over/under of 6.5 wins to go with +1500 odds to win the Pac-12, third best in the North.
New Offense – New QB
In addition to changing to a run-and-shoot offense, Wazzu will have a completely new quarterback since all three guys who threw a pass last season are gone. Whether it's sophomore Cammon Cooper or freshman Jayden de Laura, who is at least familiar with the system, it may not matter.
A new offense is usually difficult on linemen, but they return three starters including both tackles before possibly moving to the NFL.
The highlight of the offense is at the skill positions led by running back Max Borghi, who could get a few more carries after rushing for 817 yards and 11 touchdowns, as well as catching 86 passes for 597 yards and five touchdowns.
He could turn into the focus of the offense, while receiver also has the options despite losing a slew of guys to graduation. Renard Bell (579 yards), Tay Martin (564 yards), Travell Harris (536 yards) and Calvin Jackson Jr. all got plenty of experience in the Air Raid and will help the new quarterback.
Defense Lacks
The bigger problem comes on the defensive side where Leach's teams always struggled to provide consistency on a year-to-year basis. New coordinator Jake Dickert (Wyoming) has a lot of work to do and while his defenses stood out in the MWC, the Pac-12 is a different game. 
The good news is that Wazzu has a solid core of returning starters, most of them being seniors. That starts up front between Dallas Hobbs and Will Rodgers, but linebacker Jahad Woods (141 tackles) is who stands out in the defense and he has decent experience around him in the new 4-3 scheme.
The secondary is in a decent situation despite the offseason death of safety Bryce Beekman. Senior corner George Hicks and safety Skyler Thomas will hope to improve and get the group to better overall numbers after allowing almost 300 passing yards per contest last year.
If the offense doesn't take off out of the gates, Washington State could be in trouble which is why betting on the over will be difficult. Anything can happen in the first two non-conference games and even with five home Pac-12 games, that probably doesn't matter.
In addition to limited attendance because of the pandemic, the Cougars draw Utah, ASU, Oregon and Washington at home. That means they'll need to win some road games and none of those can be considered free wins.
If the defense shows major improvement, this team would be in better shape, but banking on them to find immediate success with a new offense and quarterback won't be easy. It'll likely take a year or two before Rolovich can get this team where he wants it to be.
2020 Washington State Cougars Schedule
Sept. 3 at Utah State
Sept. 12 vs. Houston
Sept. 19 vs. Idaho
Sept. 26 at Oregon State
Oct. 3 vs. California
Oct. 10 vs. Utah
Oct. 17 at Stanford
Oct. 31 vs. Arizona State
Nov. 7 at Colorado
Nov. 14 at UCLA
Nov. 21 vs. Oregon
Nov. 27 vs. Washington