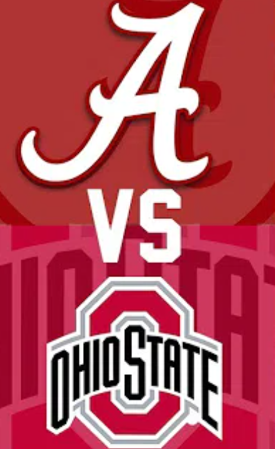 Ohio State got its revenge on Clemson in the semifinal, which leads to a different looking College Football Playoff final. OSU and Alabama met in the semifinals of the inaugural CFP back in 2015 (the 2014 season) when the Buckeyes won 42-35 as the No. 4 seed.
That's also the only time the Bucks made it to the National Championship in the CFP system. Meanwhile, Alabama has now made it five of the last six years, winning two of them. The Crimson Tide are -8.5 point favorites with an over/under of 76 for the game at Hard Rock Stadium in Miami Gardens, Florida. 
As seen in the over/under, this game will be more like OSU's win over Clemson than Alabama's win against Notre Dame. These are two of the best offenses in the country and no matter how good their defenses are, offense usually wins out at this level.
Mac Jones Leads Tide
Starting with the favorite, Alabama has maybe had the most balanced offense throughout the season. Quarterback Mac Jones leads the way with 36 touchdowns and only four interceptions on 11.3 yards per pass and a 77% completion rate.
He was up for the Heisman against top receiver DeVonta Smith, who has 105 catches for 1,641 yards and 20 touchdowns. Those two have yet to be stopped and it's hard to see that changing.
Jones also has John Metchie, Miller Forristall and Jahleel Billingsley in the passing game, while Najee Harris does the rest out of the back field. He's on 1,387 yards and 24 touchdowns for 6.1 yards per carry to go with 36 receptions and three more touchdowns.
Alabama moved the ball pretty well against Notre Dame, but it only ended up with 31 points because the Irish focused on winning time of possession which clearly didn't matter. Prior to that, the Crimson Tide had scored at least 52 points in four of their last games.
Buckeyes "D" Held Clemson to 2 YPC
Because of a limited season, there wasn't a lot known about Ohio State going into the semifinal, but its defense showed enough against Clemson, limiting them to just 2.0 yards per carry.
That's a huge performance in a big spot and something that could make this matchup interesting. Alabama has been able to run the ball against everyone this season, so if OSU can change that, that would force Jones to do everything. Still, Alabama's offensive line is probably better than Clemson's, so that may not be something to bet on.
Alabama allowed less than 20 points per game this season, but it had its issues against potent offenses and while they contained Notre Dame, their offense was more ground-and-pound and one that relied on getting out to leads.
Buckeyes Offense Still Lethal
Despite only playing seven games, Ohio State is just as lethal as a season ago with Justin Fields at quarterback even though it scored just 22 points against Northwestern.
All of those doubts were quelled when they scored 49 points fairly easily against Clemson, getting six touchdowns from Fields and then 5.8 yards per carry and 254 yards on the ground.
Fields would probably have been in the Heisman conversation in a normal season, but his numbers are still stout, averaging 9.9 yards per pass on 73.4% completion for 21 touchdowns and six interceptions.
He also runs the ball when needed, seen in his 316 rushing yards and five more touchdowns. Despite Garrett Wilson and Chris Olave being by far the top receivers on the team, both with at least 40 receptions and 600 yards, Fields spread it out plenty against Clemson.
Olave had a huge game, but tight end Jeremy Ruckert had two touchdowns, as Fields used secondary options a little more than over the regular season against inferior competition.
The Crimson Tide are 7-1 ATS in their last eight games against the Big Ten and have been getting money since the spread was released. They'll always receive money no matter the matchup and that was only enhanced after Ohio State took care of Clemson, mainly because the Tigers are viewed as a better team nationally. 
The Buckeyes have a legit offense and may have enough defense to keep this game competitive, but the public love to hammer Alabama and the SEC. If the Bucks can repeat their semifinal performance with their defense and Fields doing a bit of everything, it's hard to see the Tide running away with the game.
Similar to the semifinal, people doubted Ohio State because of a shortened season, but that was clearly a bad idea.
Our Pick – Ohio State +8.5