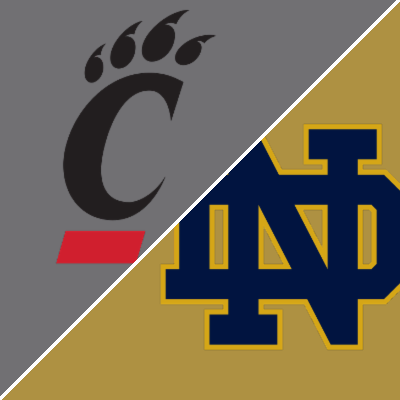 Cincinnati at Notre Dame
Notre Dame will host Cincinnati in what will be one of the marquee college football games of the weekend on Saturday. The Irish are a rare +2 point home underdog to the Bearcats with a total of 50.5.
Cincinnati comes in undefeated at 3-0 and ranked #7 in the AP poll. Much of that ranking is a carryover from last years 9-1 season, losing only to Georgia and by just 3, in the Peach Bowl.
In fact, if you check out the level of opposition last year and so far this year for the Bearcats, it's unimpressive. We're not going to learn much from wins over Miami Ohio and Murray State. Their other win came against a struggling Indiana team.
We still think Cincinnati is a damn good football team. It's just that their lofty ranking really hasn't been earned, to this point.
ND Win over Wisconsin Misleading
Notre Dame comes in ranked #9 and quite frankly, the same can be said about the Irish. They struggled to beat Florida State, Toledo and Purdue. Their win last week over Wisconsin, 41-13, is a bit misleading. They were outgained by the Badgers and the Irish had just 3 yards rushing. A couple of pick sixes and a long kick return had a lot to do with that final score.
When we write up college football games, we often bring up the running game. That's because even in 2021, winning college football games still comes down to the basic premise of running the ball effectively and stopping the run. Do that well and you'll be in every game with a chance to win.
Unfortunately for the Irish in this spot, they don't do that well. At least not yet, in 2021 and as luck would have it, Cincinnati does.
The Bearcats average 5.4 yards per rush attempt while giving up just 3.9. Notre Dame averages just 2.3 yards per rush attempt while giving up 4. That 2.3 yards per attempt ranks the Irish 124th out of 130 teams. That my friends, is why Notre Dame finds themselves 2 point underdogs at home to Cincinnati.
Our Pick
Despite the stats, we'd be surprised if this game is anything but close. Likely decided late in the 4th quarter by a field goal and a margin of 1 to 3 points. It's likely that neither team is as good as their rankings and are likely close in terms of talent.
Notre Dame plays big games almost every week. Cincinnati does not. This is without a doubt one of the biggest, if not THE biggest game in the history of the Bearcats program. Beating Notre Dame at Notre Dame allows a team like Cincinnati to remain relevant and recruit talent for years to come.
Like no other sport, emotion can and does impact the outcome of college football games. Had Cincinnati come into this game as +3 point dogs or more as many expected (or hoped), this would easily be one of the top plays of the week and a very strong play.
Even laying -2, there may be some value with the Bearcats here. It's worth a small investment.
Cincinnati -2