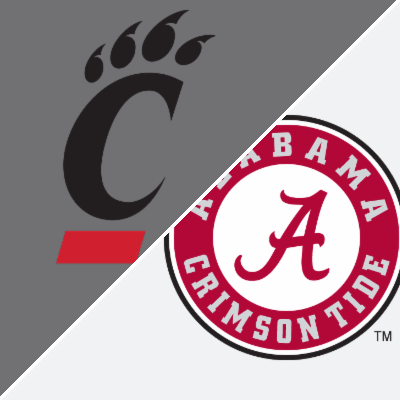 Alabama found its way into the College Football Playoff after beating Georgia in the SEC title game and now it's the favorite to win it all. Cincinnati also managed to sneak in and now gets the task of trying to take down Nick Saban. The Crimson Tide were early -13.5 point favorites with an over/under of 58 points for the game at AT&T Stadium in Arlington.
Cincinnati made it and now it has to show it belongs with the rest of the mid-majors cheering them on. The Bearcats are undefeated, but playing in the AAC will do that and their win against Notre Dame was earlier in the season. They even had trouble putting away Navy before ending the season with four wins all by at least 15 points. 
Huge Schedule Strength Difference
The difference for Alabama is that it only had one loss and probably played six teams better than anything Cincinnati faced. Even in what many believe to be a down season, the Crimson Tide disposed of Georgia in the conference title game and closed the season with seven-straight wins, though a couple of those were too close for comfort. It may be a down season, but the talent is still there.
Cincinnati's first task will be limiting Bryce Young and an Alabama group that scored 41 points on the best defense in the country. The Bearcats have good numbers, allowing 16.1 points and just over 300 yards per game, but this is a different animal. It's hard to make a solid comparison because even the top offenses in the AAC aren't on the same level as Alabama.
With almost a month to prepare, it'd be surprising if the Tide didn't score at least 30 points in this game. Heisman winner Bryce Young finished the season with 43 touchdowns and four interceptions on 9.4 yards per attempt and a 68% completion rate. He has two of the best receivers in the country in Jameson Williams and John Metchie, both over 1,100 yards and combined for 23 touchdowns.
Cincy probably hasn't seen one receiver as good as either of those guys and now they have to play two in the same game. Alabama's ground game hasn't been as dominant as prior seasons, but as seen in the win against Georgia, that doesn't matter. Still, running back Brian Robinson has been solid with 1,071 yards and 14 touchdowns on 4.8 yards per carry.
Alabama Should Score 30+
It's hard to see Alabama not hitting 30 points and 40 will be on the table if things really get away from Cincy. If that's the case, Cincy will need to score against a defense that has been hit or miss, allowing 41 points in the loss to Texas A&M and 35 to Arkansas. The Tide are allowing 7.0 yards per pass, which is good but not great in the collegiate game.
The Bearcats will ride quarterback Desmond Ridder as much as possible after he posted 30 touchdowns and eight picks on 9.0 yards per attempt. He's considered one of the best in the country and will need to produce for them to have a chance.
Alec Pierce is the top receiver with 50 receptions, but Ridder has spread the ball around fairly well with five other guys having at least 24 receptions. The question is what running back Jerome Ford can do after averaging 6.2 yards per carry. It's hard to see that working against this Alabama front that is allowing just over 80 rushing yards per contest.
Keeping this game close should be possible for Cincinnati, but it'll probably need to play its best game of the season. Given the massive step up in competition, more money will undoubtedly come in on Alabama. The people backing Cincy will look at last season's 24-21 loss to Georgia in the Peach Bowl. Of course, Alabama's offense is a bit more potent than that Georgia group.
The Bearcats have covered in their last six against a winning team, while the Tide are 5-2 ATS in their last seven at a neutral site. The under is 24-5-1 in Cincy's last 30 games as an underdog, a number that dates back many years, but the under is also 3-1-1 in Alabama's last five bowl games.
Cincinnati +14 (mybookie)