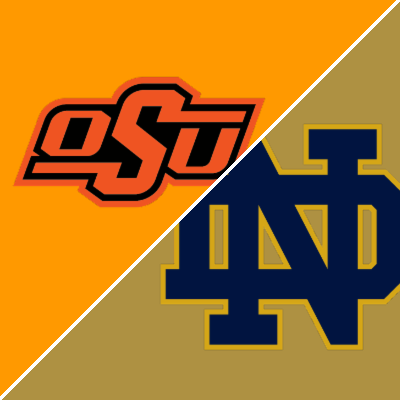 Notre Dame has been in a lot of headlines the past month, mostly because of coaching changes. Marcus Freeman, the former defensive coordinator, will lead the team as head coach for the first time in the Fiesta Bowl. 
The thought is that Notre Dame players have to show their new head coach what they can do, but it's not like the team underwent a massive change. Freeman has been with the team all season and Tommy Rees is still the offensive coordinator. The Irish didn't face a ton of top competition this season and that led to just one loss, at home against Cincinnati. Otherwise, its highlight wins came against Wisconsin and maybe the Virginia schools.
Oklahoma State has one more loss, but its resume is a tad more enticing with wins against Baylor, Texas and Oklahoma. The Cowboys have a solid, all-around group with their biggest question being the status of stud running back Jaylen Warren. If he can't play, it'll again be up to the defense to limit Notre Dame from hitting 20 points.
The Pokes have quietly been great all season, allowing just 2.7 yards per carry and 16.8 points per game. For the most part, they contained every opposing offense outside of the first half against Oklahoma.
It's been hard to get a read on Notre Dame's offense all season and this is probably its toughest matchup since the loss to Cincinnati. The Irish have scored 28 points in six of their last seven games, but none of those defenses they played were on the same level as OK State's. The Irish are fine at a lot of things. Running back Kyren Williams had a worse season (compared to last) according to the numbers with 1,002 rushing yards and 14 touchdowns on 4.9 yards per attempt. Those are solid, but OK State's run defense has stopped almost everyone this season. If Williams can't reach his usual numbers, quarterback Jack Coan will be asked to do more. 
Coan's numbers are fine, averaging 8.3 yards per attempt for 20 touchdowns and six interceptions, but he rarely had to play from behind this season. He also lost reps early in the season due to ineffectiveness but managed to hold onto the job, completing at least 74% of his passes the last four games.
Even if Notre Dame can't score 20 points, Oklahoma State is kind of in the same boat. Notre Dame has solid defensive numbers, allowing 18.3 points per game and 3.7 yards per carry. Some of that is competition, but the numbers are the numbers.
The Pokes struggled to move the ball without Warren in the Big 12 title game and that could be the case again. Warren was the focal point of the offense, totaling 1,134 rushing yards and 11 touchdowns on 4.9 yards per carry. Backup Dezmon Jackson hasn't been the same and has 139 yards on 1.9 yards per carry. The other part is the inconsistency of quarterback Spencer Sanders, who threw four interceptions against Baylor. For the season, he averaged 7.3 yards per pass for 16 touchdowns and 12 picks, and was more lethal on the ground, rushing for 543 yards and six more touchdowns.
This clearly isn't a battle of elite quarterbacks, but it's a wonder if the versatility of Sanders combined with OK State's better rush defense will be the difference. The spread is close because there isn't anything that really separates these teams, but OK State's rush defense is something worth betting on against a team that prefers to run.
The Cowboys have covered in their last five bowl games and are 9-1-1 ATS in their last 11 overall, while the Fighting Irish have covered their last seven overall. The under is 6-1 in OK State's last seven bowl games and 4-0 in Notre Dame's last four bowl games.
Oklahoma State pk