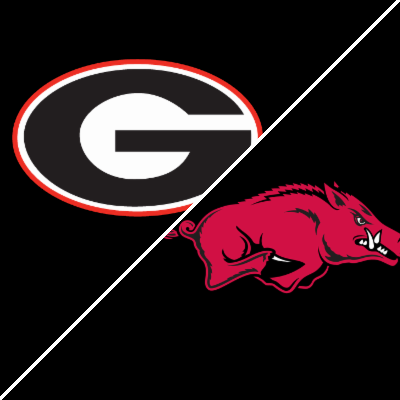 Arkansas is maybe the talk of the town, now up to No. 8 in the AP Polls, but that doesn't mean it can hang with the best teams. Georgia is still Georgia and expected to win this game by a large margin. The Bulldogs opened as -18.5 point home favorites with an over/under of 50.
Arkansas was underrated going into the season and that's the only reason it was an underdog against Texas A&M. The Razorbacks have won four games in a variety of ways. They used defense to hold A&M to 10 points and their offense was the strong suit in previous games. They'll need a big game from both sides of the ball to have a chance against Georgia.
The Bulldogs have exploded offensively since the Clemson opener, but some of that can be due to games against UAB, South Carolina and Vandy.
Georgia Defense Stout
Either way, they've allowed just 23 points in four games and their defense is the best unit in this game. To beat Georgia, you need to find a way to move the ball and put points on the board. They're allowing a ridiculous 181.8 yards per game, so it's easier said than done.
Arkansas quarterback KJ Jefferson has been fine through four games, averaging 10.8 yards per pass but only on 78 attempts for six touchdowns and two interceptions. The Hogs are more about the ground game, averaging 5.6 yards per rush as a team.
Trelon Smith leads the backfield with 298 yards, but Jefferson leads the team at 7.2 yards per carry. Unfortunately, if that doesn't work, it's hard to see Jefferson's arm leading the team down the field. This is a massive upgrade in matchup for Arkansas and if they can't churn out yards on the ground, they may struggle to top 10 points.
Arkansas "D" Not Too Shabby
On the other end, the Hogs have been great, giving up just 144.3 passing yards per game and 3.6 yards per carry. Again, some of that can be due to schedule, but Texas has already shown its explosiveness in other games so holding them to 21 points was impressive.
The Bulldogs have seemingly figured things out offensively, but that's another thing due to matchups. There's no chance they'll keep up this offensive output unless they've truly figured things out.
They're averaging more than 10 yards per pass over the last three games and that's a combination of Stetson Bennett and JT Daniels, the latter being the starter when healthy. The ground game has been fine, averaging 4.8 yards per carry as a team and something that'll need to be figured out before the end of the season.
Zamir White can be a good running back, but he hasn't topped 10 carries since the opener. This offense seems a little more pass-heavy than prior seasons, giving them a different dynamic.
To cover this game, Daniels will need to top 30 points unless Georgia goes for another shutout. Arkansas has played well this season, but this is another step up in competition.
Playing on the road is also another animal for Jefferson after he had the home crowd behind him for the A&M win. Georgia is easier to trust because of its recent history, but there's a chance Arkansas gets on the map if it can be competitive in this game.
The Razorbacks are 13-3 ATS in their last 16 overall, while the Bulldogs are 5-2 ATS in their last seven overall.
Arkansas +18.5