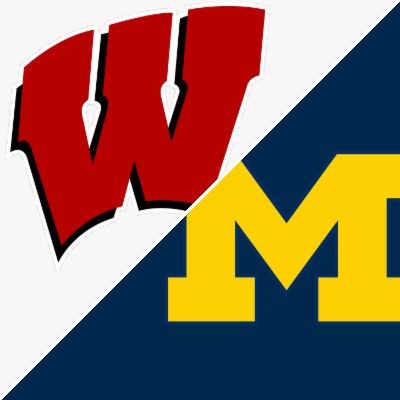 This has the makings of a classic Big Ten game, meaning defensive and ugly. Michigan and Wisconsin are two teams built on defense and the first to score 20 points will likely win this matchup, assuming one of the teams gets there. The Badgers are a -1.5 point home favorite with a total of 43.5 points.
Based off some early games, it wouldn't have been surprising if this over/under was closer to 40 points. Wisconsin scored 10 points against Penn State and then 13 against Notre Dame in last weekend's loss.
Michigan is averaging more per game, but in its toughest test of the season, it managed just 20 points in last week's win against Rutgers. It almost doesn't make sense to look at last year's result, which was a 49-11 win for Wisconsin in Ann Arbor.
Michigan Just 2.9 YPC vs. Rutgers
While that may not happen again, there is a chance the Badgers win both battles on the lines of scrimmage. The Wolverines were cruising through everyone, but they reached just 2.9 yards per carry as a team in the win against Rutgers.
If they struggle at home against Rutgers, they'll probably struggle on the road against Wisconsin. The problem is that Michigan has been too scared to pass the ball more. Cade McNamara is averaging 10.1 yards per pass, but he's attempted just 53 passes in four games.
That's not a big number and as seen against Rutgers, that's not something to trust. If the Wolverines struggle to average three yards per carry again, it's hard to see McNamara doing enough to top 20 points.
While that sounds great for Wisconsin, they've also had similar issues. Graham Mertz is a high-level recruit, but that doesn't mean he's a high-level collegiate player. He's averaging 6.0 yards per pass for one touchdown and six interceptions.
Could Be Low Scoring
Some of that is the defenses he's faced, but Michigan is another solid defense, so this game won't be any easier. The reason the Badgers haven't had success is because the ground game isn't as good as prior years with Chez Mellusi leading the way at 4.6 yards per carry. That's good, but not good enough when the quarterback struggles to complete passes.
Given those offensive numbers and that each defense is considered to be one of the better groups in the conference, it's possible neither team reaches 20 points.
The Badgers have had the tougher schedule, so there's still a chance they're a top team in the Big Ten and things just got away from them against Notre Dame. If that's the case, they have the edge at home against the Wolverines, who failed to score in the second half against Rutgers. 
The Wolverines haven't covered their last six conference games and are 5-11 ATS in their last 16 road games. The Badgers haven't covered in their last five conference games and are 1-5 ATS in their last six against a team with a winning record.
UNDER 43.5