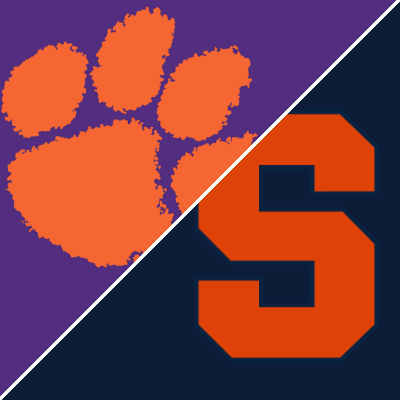 Syracuse hosts Clemson on Friday night to kick start the weekends college football action. The Orangemen are 14.5 point home underdogs with a total of 45.5.
Syracuse comes into this game 3-3 overall but 0-2 in conference play, placing them in last place in the ACC Atlantic division.
Clemson is 3-2 overall and 2-1 in conference play. They're obviously still in the race in the ACC Atlantic division but have some work to do if they are going to catch Wake Forest who is 4-0 in the division and in 1st.
The current line along with the early money coming in on Clemson is a reflection of what bettors think Clemson is capable of. It's certainly not based on anything the Tigers have done this year.
Clemson Getting Healthy?
Clemson has been banged up. One Clemson source said it's the most banged up the team has been over the last decade. Some players are lost for the year but this week could see the return of a few.
As we write this, the Tigers are still awaiting word on tight end Braden Galloway, receivers Justyn Ross, Frank Ladson Jr. and E.J. Williams. Cornerback Fred Davis, safety Joseph Charleston and right guard Will Putnam also could return.
The Clemson offense simply hasn't taken off. It ranks 117th in total offense and 112th in points scored.
The Clemson defense however is still one of the best. Using yards per point to rank, they are 5th in the nation with a ypp number of 22.7. They held Georgia to just 10 points in the opening game this year. Syracuse won't find the end zone this week as easily as they did last week against Wake Forest.
Point Explosion Doubtful
We wouldn't expect a point explosion anytime soon. The Tigers may have injuries, but Trevor Lawrence moving on has a lot to do with the impotent offense. The kid kept defenses honest. He opened up the offense because he was such a threat through the air. They've become one dimensional.
Here's the way our model sees this game.
Clemson                  -13.0          17           
Syracuse                  44.5          11
The only team Clemson scored on this year was South Carolina State. Other than that their high point total for the year was scoring 21 against NC State. They managed just 14 against Georgia Tech. Pitt scored 52 on Georgia Tech.
There's some value in this line based on who Clemson was, not necessarily who they are now. Yes, their offense could come to life one week and hang 50+ points on the board. But they haven't show any indication that can happen in 2021.
We'll take the points here with the pumped up home dog under the Friday night lights who should be feeling plenty confident after going toe to toe with 1st place Wake Forest last week.
Clemson had the week off last week. That might help some players get healthy but it also might mean a slow start for the Tigers so we'll also take Syracuse in the 1st quarter and 1st half.
Syracuse +3.5 1st quarter
Syracuse +7 1st half
Syracuse +15 for the game