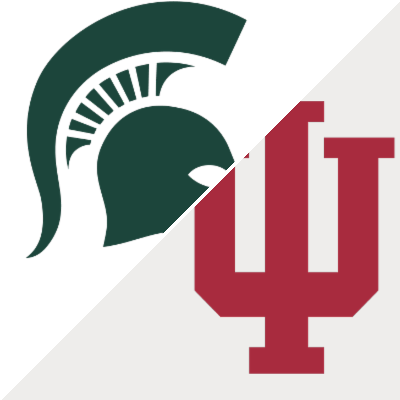 It's been a season of opposites for Michigan State and Indiana, at latest compared to last season. The Hoosiers have had a tougher schedule and as a result, enter this game at 2-3. The Spartans remain undefeated and are -3 point road favorites for this one with an over/under of 51.5 points.
There's a chance Michigan State would have the same record as Indiana if they swapped schedules, mainly because MSU hasn't played any top-10 teams. That said, the Hoosiers haven't been competitive in their losses to Iowa, Cincinnati or Penn State. Even their 33-31 win against Western Kentucky wasn't pretty, a team MSU beat 48-31.
When these teams met last season, Indiana won 24-0, mainly because of turnovers, though Michael Penix seemed to find Ty Fryfogle wide open on every play as the two connected for 200 yards.
Penix Likely Out 
Unfortunately for Indiana, Penix probably won't play in this game after separating his shoulder two weekends ago. Jack Tuttle is the projected starter in his place, someone who has only played when Penix has been hurt.
Tuttle is 8-for-18 this season and closed as the starter last season, averaging five yards per pass on 72 attempts. The Hoosiers will likely try to run the ball behind Stephen Carr (386 yards), but he's averaging just 3.8 yards per carry.
The way to beat MSU's defense is to torch what has been a bad secondary, but Tuttle may not be able to do that, leading to a noticeable edge for the road team. Michigan State is allowing more than 300 passing yards per game but a solid 3.3 yards per rush. If the Hoosiers can't run the ball, it'll be up to Tuttle to put points on the board.
It's hard to gauge Indiana's defense because of a schedule that's featured either bad teams or really good ones. It's also hard to look at last year's result because this is a different Michigan State offense. Overall, the Hoosiers are allowing 4.1 yards per carry and 28.2 points per game.
Spartans Can Move the Ball
For the most part, the Spartans have moved the ball fairly easily on every opponent except maybe Nebraska. The passing game has been a perfect complement to the ground game, which is the main reason they're averaging 36.7 points per game. Last year's meeting between these teams was actually when MSU quarterback Payton Thorne kind of won the starting gig.
Thorne has been great this season, averaging 10 yards per pass for 14 touchdowns and two picks. Top receivers Jayden Reed and Jalen Nailor have almost identical numbers, both with almost 500 receiving yards on more than 21 yards per catch.
Of course, running back Kenneth Walker III is maybe the highlight of the offense, as he's in Heisman discussions with 912 yards and nine touchdowns on 7.1 yards per carry. 
If Penix can't play, MSU may have the edge on both sides of the ball. However, if Penix feels well enough to start over Tuttle, this could be a high-scoring game, mainly because of MSU's pass defense.
The Spartans are 6-2 ATS in their last eight road games and the Hoosiers are 7-2 ATS in their last nine conference games. The over has hit in 10 of the last 13 meetings between these schools.
Our Pick
We were high on Indiana coming into this season after the season they had on 2020. Our bad. The Hoosiers haven't stepped up to the plate but rather, they resemble the Indiana we are used to.
Most of that enthusiasm we had, had to do with Penix. He hasn't been the same this year, but if he did play, there's always the chance he turns in an A+ game. But with Penix likely out, there's only one way to look here.
Michigan State -4.5