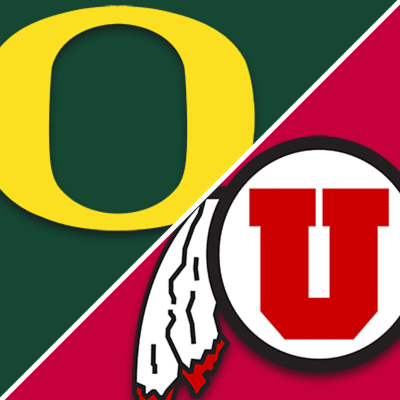 This is the game Oregon has been waiting for, at least since the CFP rankings came out. If the Ducks want a chance at the Playoff, this is a matchup they can't lose, though a rematch could follow in the Pac-12 title game. Playing at home, the Utes opened as -3 point favorites with an over/under of 58.5 points.
Since the loss to Stanford, it's hardly been smooth sailing for Oregon. It struggled to put away both Cal and UCLA, and it took some time to dispose of Wazzu last weekend. The Ducks are far from dominant, but they have the Ohio State win on their resume and that may be all that matters if they can get past the rest of the Pac-12.
Utah has had a couple more stumbles and lost two non-conference games early, but it already has two double-digit home wins over Arizona State and UCLA. That may be the main thing to take away for this matchup because all three of Utah's losses have come on the road.
Neither Dominant – Both Solid
Neither team is dominant in one aspect of the game, but they are both solid in almost every facet. Oregon quarterback Anthony Brown has just 12 passing touchdowns (to four interceptions) while averaging 7.7 yards per attempt.
He's thrown for less than 250 yards the last two games combined, which shows how dominant the ground game has been. Brown ran for 123 yards last weekend and has 551 yards on the season for eight touchdowns. Combine that with Travis Dye and his 6.0 yards per carry for 908 yards and 12 touchdowns, and that's enough to beat a lot of teams in the conference.
The problems arise against better defenses and that's what Utah presents. The Utes maybe aren't as dominant as prior seasons, but they're one of the better groups in the Pac-12, allowing just 3.9 yards per carry and 23.8 points per game. For comparison, Oregon's last two opponents, UW and WSU, are allowing 4.9 ypc and 4.7 ypc, respectively.
Just as relevant, Utah's offense has been fairly consistent this season, scoring 35.9 points per game and hitting at least 44 in two of the last three. Similar to Oregon, its passing game is somewhat limited.
Rising – 7.1 Yards Per Carry
Cameron Rising has looked better since taking over in the third game of the season, but he's still at just 14 passing touchdowns and two picks on 7.5 yards per carry. He isn't running as much as Brown, but he's been as potent with 321 rushing yards on 7.1 yards per carry.
That being the case, the Utes run a two-back system with three guys averaging at least 5.9 yards per carry. Leading running back Tavion Thomas missed last weekend's game, but TJ Pledger and Micah Bernard filled in just fine.
The interesting part will be how Oregon's rush defense holds up, as it's allowing 3.4 yards per carry, best in the conference. The last time Utah played a rush defense this good is when Rising took over at quarterback and almost led a comeback against San Diego State. So even if Utah can't hit its usual rushing numbers, the thought is that Rising will have enough to win this game.
The Ducks are 8-2 ATS in their last 10 against a team with a winning record, while the Utes are 15-6 ATS in their last 21 in conference play. The over is 7-1 in the last eight meetings between these teams and the underdog is 4-1 ATS in the last five.
Here is how our model sees the game.
Oregon                    58.5          26           
Utah                      -3.0          30 using full season data
  
Oregon                    58.5          26           
Utah                      -3.0          38 data from last 4 games
  
Oregon                    58.5          24           
Utah                      -3.0          37 data from last 7 games