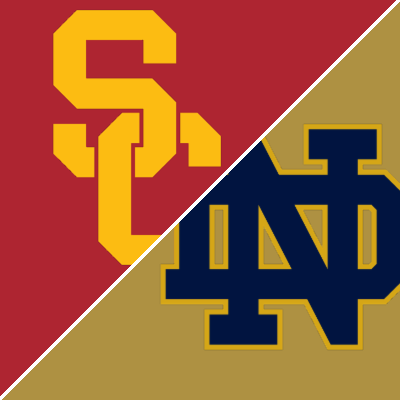 This game doesn't have any significance for the College Football Playoff. Notre Dame is ranked No. 13 in the AP Poll, while USC is at 3-3 in the midst of an ongoing coaching search. Playing at home, the Fighting Irish are -7 point favorites with an over/under of 58 points.
Notre Dame has had the edge in recent meetings, winning the last three, but because of the pandemic they didn't play each other last season. The Trojans are kind of plodding along at this point and that was seen in their last defensive performance when they gave up 42 points to Utah two weeks ago, allowing 10.9 yards per pass and 5.1 yards per rush.
It's unclear if that was a bad matchup or it was simply because USC's defense isn't good. The Trojans have either given up 40-plus points and lost or won and given up 14 or less in a win this season.
Irish Games Close
As for the Irish, almost every game has been close, even their win against Wisconsin despite what the score says. Their defense has been good enough to keep opponents in check, but they don't have much explosiveness on the offensive end, mainly because they're using three quarterbacks.
Jack Coan was the hands-down starter, but Tyler Buchner attempted more passes against Virginia Tech last game. No matter the case, none of their quarterbacks have shown a ton of spark with Coan averaging 7.5 yards per pass for 10 touchdowns and three interceptions.
The offensive line is still a step below last season and that's why Kyren Williams is at just 370 yards and four touchdowns on 3.9 yards per carry. They'll score points when needed, but they're not going to put up 40-plus points every game.
There's not a ton to like about USC's defense, allowing 4.4 yards per carry and 380 yards per game. But still, with a spread at seven points, there's a chance for USC's offense to keep things close and get the cover.
Slovis Inconsistent
The problem is that Kedon Slovis has been a bit all over, averaging 7.2 yards per pass for nine touchdowns and five picks. He's slinging it out, attempting 53 passes in the loss to Utah, but that's also leading to interceptions.
If possible, they'll run the ball more, assuming they  don't get into a hole. Keaontay Ingram is having a solid season even in a pass-heavy offense, as he leads the team with 419 yards and three touchdowns on 5.7 yards per carry. USC scored on a better Utah defense and should be able to score enough to stay competitive in this matchup.
Notre Dame's defense has done enough to win games this season, but it's far from dominant. The Irish are allowing 3.8 yards per carry and 24.3 points per game. They've held most teams in check, but outside of Cincinnati they haven't played a top offense.
Of Notre Dame's five wins, only two have come by more than three points, so there are plenty of reasons to take the underdog in this spot. Sure, USC is hard to trust, but Notre Dame's lack of explosiveness on offense may be just what keeps the Trojans around.
The Trojans have covered in their last four road games and the Irish are 1-4 ATS in their last five at home. The home team is 6-1 ATS in the last seven meetings between these schools and the favorite is 6-2 ATS in the last eight.
USC +7