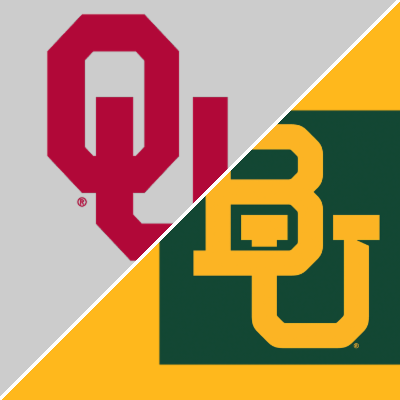 A spot in the College Football Playoff is waiting for a still undefeated Oklahoma Sooners team. This is one of three final regular season tests, none of which are guaranteed wins. The Sooners were early -6 point road favorites against Baylor with an over/under of 63 points.
The Sooners are undefeated, but their schedule has been iffy with their best opponent record wise being Kansas State. It's not easy going undefeated through nine games, but opponents matter, as does the number of close games they've had.
This was set to be a huge game for Baylor, but it fell to TCU last weekend and now has two losses. Outside of the losses, Baylor has played similar to Oklahoma in that it's winning games by slim margins. It took down Iowa State by two points and Texas by a touchdown, though it also destroyed Kansas, something Oklahoma couldn't do.
Sooners Offense Rolling
The Sooners have scored at least 52 points in three of their last four games and oddly the one time they didn't came against Kansas. Freshman quarterback Caleb Williams has been a bit of a jolt for the offense, averaging 10.9 yards per pass for 14 touchdowns and an interception the last four games.
It's hard to argue the numbers, as they are better across the board than former starter Spencer Rattler. Throw in his athleticism which has led to 288 rushing yards on 9.3 yards per carry and not many will be able to stop this offense. Behind Williams and running back Kennedy Brooks, the Sooners are favored to win the Big 12 even with a difficult schedule.
Baylor looks like a tough out on paper, allowing 20.6 points per game, but it just gave up 30 points to TCU and hasn't been an overly dominant defense. That said, if the Bears can keep the Sooners around that 30-point mark, there will be a chance for an upset.
Sooners Defense Vulnerable
Unsurprisingly, Oklahoma's defense is the weak spot, allowing 383 yards and 24.2 points per game. They were supposed to be better this season, but they haven't really stopped anyone, giving up at least 20 points each of the last five games. The big thing is that they're allowing 3.4 yards per carry, which could be what helps them against Baylor.
Then again, the Sooners have struggled against high-powered rushing attacks, so while the numbers say one thing, it wouldn't be surprising if the Bears had their way on the ground. As a team, they're averaging 5.9 yards per carry for 24 touchdowns, most of those numbers behind top running back Abram Smith with 1,055 yards and 11 touchdowns on 7.3 ypc.
That being the case, quarterback Gerry Bohanon has been serviceable, averaging 8.8 yards per pass for 15 touchdowns and five interceptions. The Bears are fairly versatile through ground and air, and that's usually what the Sooners struggle against.
If Baylor can run the ball like it has been, there's no reason it can't keep this game competitive. The question is how much it can limit Williams and company from scoring at will. The Bears are 4-1 ATS in the last five meetings between these schools and the over is 5-2 in the last seven played at Baylor.
Baylor +6