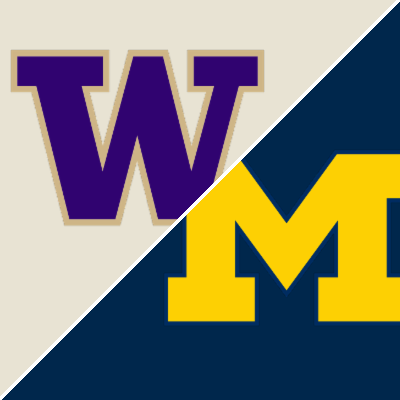 Washington at Michigan
The Michigan Wolverines host the Washington Huskies on Saturday September 11th. The game kicks off in prime time, 8 PM EST and can be seen live on ABC. Michigan opened as a -4.5 point favorite and has been bet up to -7 midweek. The total is 48.
Both teams are in off seasons they'd like to forget. For the Huskies, it wasn't a losing one. But they only played 4 games. The season started November 14th and ended December 5th! They beat Oregon State, Arizona and Utah but lost to Stanford.
Michigan was 2-4 last season. Their season started at the end of October and ended at the end of November. They beat Minnesota and Rutgers but lost the rest, including a 49-11 beat down at home against Wisconsin.
Harbaugh on Hot Seat?
Jim Harbaugh might be on the hot seat. Last season was his only losing one at Michigan and he has a built in excuse with covid. But in 5 tries, he's yet to beat Ohio State. It's the first time ever that a coach on either side of that rivalry lost the first 5 games in the series.
The Wolverines came out firing right out of the gate last week by blowing out Western Michigan 47-14.
The Huskies on the other hand, stumbled. They faced FCS opponent the Montana Grizzlies as -24 point favorites and lost outright, 13-7! No doubt looking ahead to this weeks big game played a role in that outcome.
Huge for Both
Needless to say, this game is huge for both programs. There are always high expectations for both of these teams and that's even more true in this particular year as both are loaded with returning talent.
The last "real" college football season was in 2019. In that season the Washington Huskies went 8-5. But those 4 losses we're by 1, 10, 4, 5 and 6. They have had winning football seasons every year since 2010 and many, many more prior.
Washington is a winning program and we think they show up this week after embarrassing themselves last week. Don't know that they'll pull the upset but a tight game to the wire looks to be on tap.
Washington +7