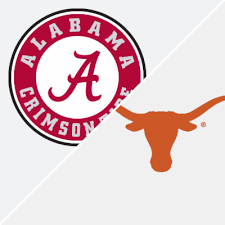 The Texas Longhorns will host the Alabama Crimson Tide this week in a game that will answer plenty of questions about the Longhorns. Alabama opened as -18 point favorites and we now see a mix of 20 and 20.5's. The total is 65 at betonline.
You would think that these two storied programs would have a rich history against each other. However, that's not the case. They have only met 9 times going back to 1902 and just 3 times in the last 50 years. Overall Texas is 7-1-1 in those games but the last time they met was in 2010. That one was for the BCS Title which Alabama won by a score of 37-21.
This game is really all about Texas. There really aren't any question marks concerning Alabama. The Tide will be one of the best teams in college football once again this year and will once again compete for a National Title. They are loaded with talent on both sides of the ball. They simply reload.
Blown Leads Galore
Texas on the other hand is off a 5-7 season. A season in which they started 4-1 but then lost 6 in a row for the first time since 1956. Of those 6 losses only one was by more than a TD. That was to Iowa State, 30-7.
In that 6 game slide they lost to the likes of Oklahoma, Oklahoma State and Baylor. All good teams. Unfortunately they also lost to Kansas in a 57-56 shootout. The Texas offense wasn't the problem. They could score on anyone. But the defense didn't hold up their end of the deal.
The Longhorns led Oklahoma 28-7 in the 1st quarter only to lose 55-48. They led Oklahoma State 24-16 after 3 quarters only to blow the game in the 4th. They led Baylor 21-17 heading into the 4th but were outscored 14-3 in the final quarter.
Texas Coach Steve Sarkisian enters year #2 at Texas. Like all coaches, he talks a good game in terms of how this year will be different, etc. But we shall see. In this spot, against Saban, he's in over his head.
It's hard to put faith in this Texas team based on recent play, let along back them with your hard earned dollars. It's the same old story on defense. The talent is there but they just can't put it together. There are plenty of veterans on the defense this year. But will things be any different?
Highly Recruited QB's
On paper it's a matchup between two of the most highly recruited QB's ever. Both #1 recruits in their class. But the similarities end there. Bryce Young had a front row seat as back up during Alabama's National Championship season in 2020 and went on to win the Heisman Trophy last season. Not bad!
Quinn Ewers is making his 2nd start ever. Against one of the best defenses he'll ever face and against legendary coach Nick Saban. It almost seems unfair. It's comparable to throwing a rookie QB in against NFL defenses. They always struggle and Ewers will likely struggle here.
But you can never underestimate what emotion can do in a college football game. A game of this magnitude with 100,000 screaming maniacs that have your back. The adrenaline rush alone can make a team better, even if only for a short time. Which is why we'll take a small shot with the Longhorns early in this game.
But first let's look and see how our model sees this game, as if it were played at the end of last season. In other words, using last year's data.
Alabama                    65.          43           
Texas                     -20.          23 full season data
  
Alabama                    65.          32           
Texas                     -20.          12 last 4 games data
  
Alabama                    65.          42           
Texas                     -20.          16 last 7 games data

As you can see, 2 of the 3 predictions are right on the current number of -20. It also shows you how these lines are made and how much emphasis last year has on early season college football lines.
The feeling here is that the strength of this Texas team, their offense, is at a huge disadvantage here with what amounts to a rookie QB, regardless of how great he was in high school. As this games moves along, that disadvantage should become clear.
But early on, until things settle down, we're going to take a shot with Texas in the 1st quarter and 1st half to keep things interesting before Alabama eventually extends a margin in the 2nd half.
Small plays on:
Texas +6.5 1st quarter
Texas +13 1st half (draftkings)