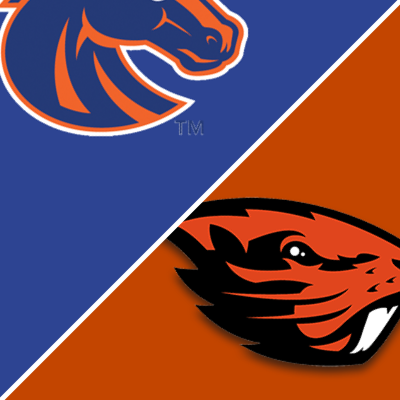 Oregon State will host Boise State on September 3rd in the opener for both teams. The game kicks off at 10:30 PM EST with Oregon State favored by -3.5 (up from an opener of -2.5) and a total of 59 at betonline.
There are lots of similarities between these two teams, both in terms of their seasons a year ago and what's expected for 2022. Both teams won 7 games in 2021. Boise State was 7-5 while Oregon State was 7-6. Boise had their Bowl game cancelled while the Beavers lost to Utah State.
Both teams were also competitive in their losses. Both lost a few games by a TD or less. So, a play here or there could have turned 7 wins into 8 or 9 for either one of these teams. Furthermore, both teams are in the top 30 in terms of returning production. Boise State returns 17 starters while Oregon State returns 15.
Perhaps the biggest difference in winning 7 games for these two programs is that for one team, winning 7 games is a good year. For the other, it's sub par. For the Beavers, it had been 7 years since they won 7 games. For Boise State on the other hand, their past is littered with double digit wins.
Score Prediction Model
Considering the returning talent for both squads, this is definitely a game where what happened last year is relevant. So let's take a look at how our model sees this game using different time frame parameters with last years stats.
Boise State               59.5          26           
Oregon State              -3.5          21 full season data
  
Boise State               59.5          15           
Oregon State              -3.5          16 last 4 games data
  
Boise State               59.5          22           
Oregon State              -3.5          19 last 7 games data
The model has Boise State winning straight up in two out of three predictions with the other prediction showing a 1 point Oregon State win. The most meaningful predictions are the full season data and the last 7 games. Using just 4 games is borderline. It's the bare minimum number of games necessary.
The model obviously likes Boise State plus the points as well as under the total of 59 and we agree on both counts.
Our Pick
The feeling here is that Boise State was the better team last year and while both teams have many of those pieces in place for 2022, Boise State has more of those pieces. Such as a Senior QB they hope will finally live up to his potential.
Boise State had some nice wins over winning teams last year. They beat BYU, Utah State and Fresno State who were 11-3, 10-3 and 10-3. They also lost to 12-2 Oklahoma State by just 1 point.
The Beavers big win was upsetting Utah. Otherwise, the only other winning team they beat was 8-5 Arizona State. They came up short against every other team with a winning record. Also note their common opponent with Boise was Utah State. Boise Beat Utah State 27-3. Oregon State lost 24-13.
We like our chances with a Boise State team looking to return to double digit wins and we also like the game to go under the total of 59.5.
Boise State +3.5
UNDER 59.5