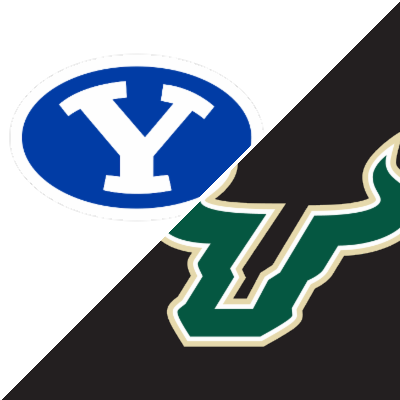 BYU will travel across the country to take on the South Florida Bulls in what will be the opening game of 2022 for both programs. BYU is a -12 point road favorite with a total of 58 at betonline as of early August.
These two teams have played twice before. Surprisingly, South Florida won one and lost the other by just 8. Their win came in 2019 by a score of 27-23 and they lost last years game 35-27. We say surprisingly because South Florida had teams that ended up 4-8 and 2-10 those years while BYU had winning years and fielded a 10-3 team last season.
Both of these programs are loaded with returning talent. Both teams have 19 of 22 returning starters back and rank among the top in the nation in terms of returning production.
This will be BYU's last season as an Independent. They become a member of the Big 12 for the 2023 season.
Score Prediction Model
Here are the results from our model for this game.
B.Y.U.                   -12.0          37           
South Florida             57.5          23 using full season data
  
B.Y.U.                   -12.0          30           
South Florida             57.5          24 last 4 games data
  
B.Y.U.                   -12.0          41           
South Florida             57.5          29 last 7 games data
Not much help in terms of the side as all three predictions fall right around the current number.
It should be noted though that last year BYU led 21-0 after the 1st quarter and 28-6 at the half. The feeling here is that the 1st half of last year is more indicative of how this years game could play out. BYU is the more talented team and suffered a classic 2nd half letdown a year ago.
But we're going to steer clear of the side in this one and instead recommend the total.
High Scoring Affair?
South Florida managed to find the endzone against some pretty good teams a year ago. They managed 20 on Florida, 27 on these Cougars, 42 on Houston and 28 on Cincinnati. All ranked in the top 20. They bring in QB Gerry Bohanon from Baylor and new OC Travis Trickett who runs a fast paced offense.
The BYU offense was legit last year and returns just about everyone in 2021. No reason to expect anything different this year and going against a questionable South Florida defense in game one should prove beneficial.
The score prediction model using the last 7 games from 2021 predicts 70 total points scored in this one. While not a strong play, we think this one has the potential to see some fireworks. We'll offer a small opinion on OVER the total of 57.5.
BYU/South Florida OVER 57.5