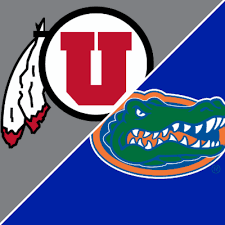 The Florida Gators will host the Utah Utes on September 3rd in what will be the first full Saturday card of the 2022 college football season. Kickoff is scheduled for 7 PM EST with Utah favored by 2.5. The Total is 53 and those odds are courtesy of betonline.
Dan Mullen took over as head coach at Florida in 2018. He turned in back to back double digit win seasons and an 8-4 record in 2020. But last season after a 3-1 start and almost upsetting Alabama, things took a turn South for Mullen and the Gators.
Florida dropped 4 or their next 6 games including an unacceptable 40-17 loss to South Carolina. They then almost lost to Samford, yes that's Samford with no "T" after the s, in a crazy game that ended with the Gators on top 70-52. The following week they lost a one point decision to Mizu in OT and Mullen was canned.
In comes Billy Napier from the Louisiana Ragin' Cajuns. Napier spent time as a position coach with both Clemson and Alabama but his head coaching experience is limited to the 4 years he spent with Louisiana, going 7-7, 11-3, 10-1 and 12-1. Not too shabby!
Utes PAC-12 Champs in 2021
Utah is in off of a fantastic 2021 season that saw them go 10-4, winning the PAC-12 Championship and losing a thriller in the Rose Bowl to Ohio State 48-45.
Kyle Whittingham enters his 18th year as head coach at Utah. He has been with the program since 1994 (28 years!!) taking over as head coach in 2005. He's only had 2 losing seasons, back to back 5 win seasons in 2012 and 2013. Six of those 17 seasons were double digit win seasons including last year's 10-4.
Both of these programs are solid. The Gators are always loaded and were better than their results in 2021. Billy Napier did nothing but win at Louisiana and while you have to respect his results, let's be honest, it wasn't against the SEC. With the talent at his disposal in Florida, now we'll see if Billy Napier can coach big time football.
Here are the results from our model using stats from last season.
Utah                      -1.5          30           
Florida                   53.0          27 full season data
  
Utah                      -1.5          32           
Florida                   53.0          16 last 4 games data
  
Utah                      -1.5          44           
Florida                   53.0          23 last 7 games data
The results from the model are what you'd expect. You can see that taking the entire season into account, the model predicts a 3 point win for Utah. But we know the Gators took a nosedive and that's reflected in the two other predictions.
Our Pick
The Utes are the best team in the PAC-12. Everything is in place for Utah to make another run at the college football playoff. The outcome of this game will likely be due to coaching.
On the one hand you have Whittingham and his 28 years with the Utes. There's no learning curve here. This is his team, his players and his program. He's a proven winner and this is an absolutely huge game in more ways than one for Utah. (think Florida recruiting).
Napier is taking over someone else's team. Someone else's players. He needs to put his stamp on the Gators and that takes time.
This should be a fun one. Keep an eye on the board and shop for the best price. The lowest we currently see as of this writing in late July is -1.5. We'll lay it.
Utah -1.5