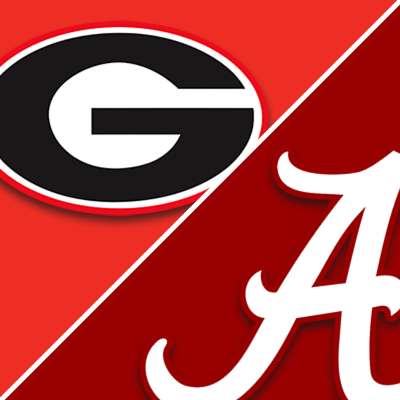 The National Championship is a rematch that was inevitable as soon as the College Football Playoff was set. Georgia gets its second crack at Alabama in three games after struggling to keep up in the SEC title game. The Bulldogs still have the better metrics and were an early -2.5 point favorite with an over/under of 52.5 points for the game at Lucas Oil Stadium in Indianapolis.
Georgia still has the best defense in the country, but Bryce Young did what he wanted in the first meeting, tossing for 421 yards and three touchdowns on 9.6 yards per attempt. The difference in that first meeting was that the Bulldogs couldn't run the ball and Stetson Bennett threw two interceptions, one of them resulting in a 'Bama touchdown in the fourth quarter. That being the case, the loss of wide receiver John Metchie is relevant for Alabama in this one after he had six catches for 97 yards in the first matchup.
The Crimson Tide took a completely different approach against Cincinnati and used their size to win 27-6 behind 301 rushing yards on 6.4 yards per carry. This is a different matchup, so it's likely Young will air it out early and often again. Top receiver Jameson Williams (1,507 yards, 15 TDs) could get even more looks without Metchie, but Slade Bolden and Ja'Corey Brooks are both expected to have a role. Brooks had five receptions all season heading into the semi-final and then he had four for 66 yards in place of Metchie.
Bryce Young is the Key
As for the ground game, it's unlikely Brian Robinson will hit 200 yards again. He ran for 55 yards on 3.4 yards per carry in the first meeting and it wouldn't be surprising if he had similar numbers. Georgia's run defense has been impenetrable and Michigan found that out in the semis, as it managed just 91 yards on 27 carries despite having one of the best rushing attacks in the country. This game again will come down to what Bryce Young can do against this defense. If he slings it for 400-plus yards, Georgia will be in trouble.
Georgia should be able to score in this game, but it can't turn it over. This matchup could look completely different than the first one if Alabama doesn't score 24 points in the first half, but it's hard to rely on that. The Bulldogs will try to get the ground game going, similar to how things worked against Michigan. They ran for 190 yards on 35 carries, gaining yards in a variety of ways, as it was more than just Zamir White, who had 12 carries for 54 yards. In the first game against Alabama, they were losing early and couldn't get much going en route to 109 yards on 30 carries.
Outside of the interceptions, Bennett was fine in the last matchup, throwing for 340 yards on 7.1 yards per attempt. He's not going to match Young on a talent level, but he has enough to win this game if Georgia's defense steps up. Even against Michigan, Bennett was solid with 313 yards and three touchdowns on 10.4 yards per attempt. 
Expect Georgia "D" To Show Up
This game will come down to Georgia's defense because if Alabama scores close to 40 points again, it probably won't be able to keep up. If this game is in the high 20s or even low 30s, Georgia has a chance to win. Either way, it's on the defense to keep pace, which is how it's been most of the season.
The Bulldogs are 7-2 ATS in their last nine bowl games, while the Tide are 1-4 ATS in their last five Championship games. The underdog is 7-1 ATS in the last eight meetings between these schools and the over is 3-0-1 in the last four.
Here is how our model sees the game.
Alabama                   52.5          14   NEUTRAL 
Georgia                   -2.5          25 using full season data
  
Alabama                   52.5          20   NEUTRAL 
Georgia                   -2.5          20 using data from the last 4 games
  
Alabama                   52.5          18   NEUTRAL 
Georgia                   -2.5          25 using data from the last 7 games
  
We think you'll see a much different game this time round. This defense has something to prove. On paper, it's one of the best ever. But as the saying goes, they don't play the games on paper.
We think Georgia wins this game with an exclamation point.
Georgia -2.5