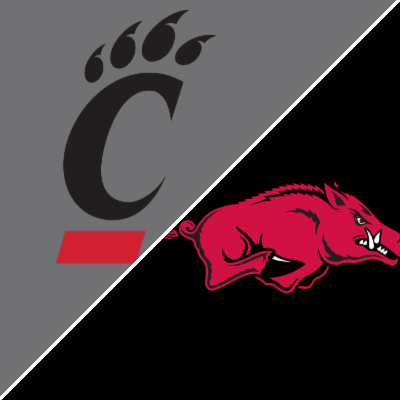 Arkansas will host Cincinnati on Saturday September 3rd as both teams look to continue their recent success. The Razorbacks are favored by -7 with a total of 52 at betonline.
The Cincinnati Bearcats were undefeated in the regular season last year and earned a trip to the college football playoffs. There, they were ousted by Alabama 27-6 in a game that Alabama dominated from start to finish.
Now, we can argue back and forth whether or not Cincinnati deserved to be there or whether Cincinnati would have still been undefeated if they played in a major conference. In fact, I think we'd all agree that if they were in a major conference they would not have gone undefeated.
The Bearcats have fielded some solid football teams over the last decade but by and large they have come up short when they have stepped up in class. The did knock off Notre Dame last year and played an extremely competitive game against Georgia in the Peach Bowl the year before that. But there are just as many examples of them falling flat and losing by double digits. (granted a game 7 years ago means very little now other than to illustrate a talent gap in programs)
They return 7 players on offense and 4 on defense and that includes losing a half dozen players to the NFL. Cincinnati doesn't reload as easily as an Alabama or an Ohio State.
Razorbacks 9-4 in 2021
Arkansas was 9-4 last season and capped it off with a 24-10 win over Penn State in the Outback Bowl. In their 4 losses, they were really not competitive in only one of those and that was their loss to eventual champion Georgia, 37-0.
Arkansas also managed to hang around against Alabama. Though they were edged out in all of the key statistical categories, it wasn't as lopsided as the Cinci loss to the Tide. Arkansas ended up losing by a TD, 42-35.
Again, the strength of schedule difference between these two was significant. Around a TD. In fact the argument could be made that had Arkansas played Cincinnati's schedule, they too could have landed in the college football playoff.
But the Razorbacks will have some holes to fill as well. They return 7 starters to the offense and just 4 to the defense.
If this game had taken place last January, here is the way our model would have seen it.
Cincinnati                52.5          24           
Arkansas                  -7.0          23 FULL SEASON DATA
  
Cincinnati                52.5          19           
Arkansas                  -7.0          24 LAST 4 GAMES DATA
  
Cincinnati                52.5          24           
Arkansas                  -7.0          21 LAST 7 GAMES DATA
The two predictions that matter most are the ones using full season data and the last 7 games. Both had the Bearcats on top by a nose.
Our Pick
Handicapping this game comes down to which team will fill the holes better. Which teams losses will hurt more?
Historically that would be any SEC team over Cincinnati. But college football is changing with the transfer portal and the more Cincinnati continues to win, they'll be able to attract talent.
But Cincinnati loses a 4 year starter at QB in Desmond Ridder to the NFL along with 6 key defensive players. That has to have an impact, especially early on in the season. Expect the Bearcats to have a solid year and contend once again for the AAC title. But also expect them to come up short in the opener.
Arkansas -7