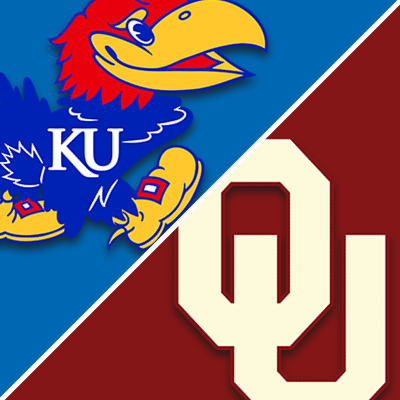 A role reversal of sorts takes place this Saturday in Norman, Oklahoma as the LAST place and 0-3 in the Big 12 Oklahoma Sooners host #19 Kansas. Kansas is 5-1 and 2-1 in Big 12 play. The Sooners opened as -7 point favorites and as of this mid week writing we see one -10 on the board. Mostly 9's. The total is 62.5.
One of the often overlooked aspects of college football handicapping is the emotional and mental aspects of the game. College football is really unlike any other sport in that regard. Sure, occasionally the NFL will have these types of situations, such as this Sunday in the Bills vs. Chiefs game. But in college ball, it's an every week occurrence.
If you gave me the stats for this game with no teams attached and told me one team was as high as -10 I wouldn't be able to bet the underdog fast enough. Ah, but there's always a caveat.
Bad Spot For Jayhawks
This is a bad sport for Kansas, but there may also be a silver lining.
On the one hand, we have the mighty and proud Oklahoma Sooners. They started their season per usual with 3 blowout wins against weak opposition.  They then lost at home to Kansas State and the following week, rather than the expected bounce back, they were blown out by TCU.
Off back to back losses and headed into their huge rivalry game with Texas, most thought we'd at least see a spirited effort from the Sooners. No one anticipated a 49-0 embarrassing blow out loss but that's exactly what happened. Now in comes Kansas as the Sooners look to stop the bleeding.
The Jayhawks are 5-1 and getting most of the bounces to go their way this year. They haven't exactly played the toughest schedule but they were 5-0 heading into last weeks game against a very good TCU team. It was a huge test at home for this program and they almost pulled it off, losing 38-31 in a great game.
Last week was such a huge emotional game for Kansas that one would have to anticipate a potential letdown. It's not easy to get sky high two weeks in a row even when your opponent is the Sooners. It's a text book flat spot situation.
Can Oklahoma Lose 4 Straight?
When you factor in the flat spot along with the fact that Oklahoma is reeling from 3 straight losses, you wouldn't be wrong to state that Kansas is up against it. Factor in the series domination by the Sooners and look out.
Going back to 2000, the Sooners are 17-0 against Kansas and have won by an average margin of 44-14. There were literally no close games. That is, until last season and that's why we give Kansas a good shot at showing up here.
Last year Kansas led the Sooners 10-0 at the half and 17-14 after 3 quarters. Unfortunately they gave up three TD's in the 4th quarter which led to an eventual 35-23 loss.
But it wasn't just the Oklahoma game that Kansas showed signs of life. After a dismal and typical start to last season, the Jayhawks came to life mid way through the season. They beat Texas in a wild shoot out 56-55 and they also gave TCU and West Virginia all they could handle.
When a team like Kansas closes the gap on a team that regularly beats them like a drum, they absolutely have to take advantage of the opportunity because such opportunities are likely to be few and far in between.
To date, it's been somewhat of a magical year for Kansas. They are getting the breaks and bounces. They have talent. They can run the ball and move it offensively.
Our Pick
Maybe just maybe the Sooners aren't that good this year. Maybe not 49-0 bad like last week. But something is definitely wrong.
Our model has Kansas winning straight up in a close game. Not the best of situations for the Jayhawks but at the same time, something is off with the Sooners. The numbers say it's close so we'll grab the points.
As of this writing on Wednesday there was a +10 on the board, which we played. However, it's all 9's and 9.5's currently. Watch the board and grab +10 if possible but it's still a play all the way down to +7.5
Kansas +9.5