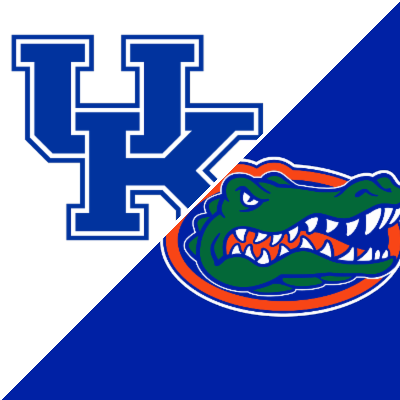 The Florida Gators will host the Kentucky Wildcats on Saturday night in a game that kicks off at 7 PM EST. The Gators opened up as a -7 point favorite at CIRCA in Las Vegas, the first to post the lines. Early bettors took Kentucky driving this number to as low as -5.5. Betonline has -6 with a total of 52.5.
Kentucky won last years game 20-13. It was a game that Florida won statistically but not on the scoreboard where it counts. The Gators won the 1st down battle 21-13 and the time of possession 36 minutes to 24. The Gators outgained Kentucky on the ground and thru the air for a total of 382 yards to Kentucky's 224.
But the Gators shot themselves in the foot. They were penalized 15 times for 115 yards which will never help a team win games. A blocked field goal was returned for a TD late in the 3rd quarter to put Kentucky ahead for good.
The Wildcats went on to a 10-3 record which included a win over Iowa in the Citrus Bowl. The Gators on the other hand ended up a disappointing 6-7 and lost to UCF in the Gasparilla Bowl. They also fired their coach Dan Mullen along the way.
head-to-head history (lined games):last 10 games
  
10/ 2/2021  Florida                  13  - 7.0  at Kentucky                 20
11/28/2020  Kentucky                 10  +25.0  at Florida                  34
 9/14/2019  Florida                  29  - 9.0  at Kentucky                 21
 9/ 8/2018  Kentucky                 27  +13.5  at Florida                  16
 9/23/2017  Florida                  28  - 2.5  at Kentucky                 27
 9/10/2016  Kentucky                  7  +14.0  at Florida                  45
 9/19/2015  Florida                  14  - 3.5  at Kentucky                  9
 9/13/2014  Kentucky                 30  +18.5  at Florida                  36
 9/28/2013  Florida                  24  -12.0  at Kentucky                  7
 9/22/2012  Kentucky                  0  +23.5  at Florida                  38
Napier Takes Over 
Billy Napier takes over this year for the Gators. We always point out how new coaches means new schemes and often times a slow start. Well, so much for that with the Gators last week. They took on a Utah team many had pegged for a spot in the college football playoff. The Gators won 29-26 while amassing 451 yards of offense, 283 of those yards on the ground.
Meanwhile Kentucky managed just 50 yards rushing last week against Miami Ohio. A game which was just 13-10 at the half before the Wildcats put it away in the 2nd half, winning by a score of 37-13.
Early results can be meaningless. Often times bettors fall into the trap of only taking into  consideration what teams did last week. The results of the previous week can often lead to value the following week for astute bettors.
But in this spot, throw us into the category of playing this game off last weeks results. The Gators looked like the much better team and more importantly against much stronger opposition. Kentucky lost key starters from their offensive line and that was evident last week in their opener against Miami Ohio. A performance like that in the Swamp will make for a long day for the Wildcats.
This line keeps trickling down. There are now -5.5's out there. We'll lay it.
Florida -5.5