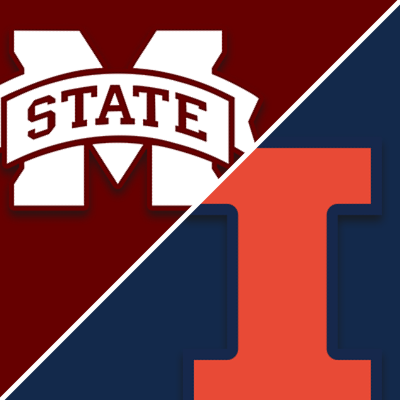 #22 Mississippi State Bulldogs (8-4) vs. Illinois Fighting Illini (8-4)
Mississippi State ended the season well and, in the ReliaQuest Bowl, they face an Illinois team that snapped their three-game losing streak in their season finale and ranks first in the nation in opponents' points allowed. The Fighting Illini come into this bowl game as a slight 1.5-point favorite with the total sitting at 45.5.
The public has slightly backed Illinois in this bowl game, as they opened as a 1-point favorite and as of December 26th they are a 1.5-point favorite.
On the season Mississippi State is 6-5-1 ATS with an O/U record of 6-5-1 and Illinois is 8-4 ATS with an O/U record of 4-7-1.  
This bowl game will be held at the neutral site of the Raymond James Stadium in Tampa Bay, Florida.
Could be Emotional Game
This game for Mississippi State could be an emotional one for them, as head coach Mike Leach passed away in December after complications from a heart condition.
The Bulldogs have a solid offense and they are all about the pass ranking ninth in the nation in passing yards per game while ranking second to last in rushing yards per game.
Will Rodgers passed for 3,713 yards with 34 TD and 6 INT and over the last four games of the season had 11 TD and only two picks. While top WR Rara Thomas will not play entering the transfer portal the Bulldogs are loaded with targets with nine players with at least 245 receiving yards.
While MSU is pass first team they have their top two RBs available in Jo'quavious Marks and Dillon Johnson, who combined to rush for 1,020 yards and 12 TD this season.
Illinois has the top-ranked defense in the nation only giving up an average of 12.3 ppg and they rank ninth in the nation in pass and run D. However, their defense will miss a few key players that will opt out of the game to get ready for the NFL Draft.
Light It Up Like the Last Game
The Fighting Illini offense, which is averaging 25.4 ppg, only averaged 18.6 ppg in three losses before their season finale where they beat Northwestern 41-3.
Tommy DeVito (2,397 yards 15 TD 4 INT) only has one TD and two INT over the last three games. Three players for Illinois have at least 452 receiving yards led by Isaiah Williams (595 yards 5 TD) but he does not have more than 26 receiving yards in the last three games.
The strength of the Illinois offense is their run game, which ranks 48th in the nation in rushing yards per game. However, they will be without their big gun in RB Chase Brown (1,643 yards 10 TD), who declared for the draft. Reggie Love III (277 yards 2 TD) will take over as lead back and he was solid in the win over Northwestern in the finale rushing for 85 yards and a TD.
MSU's defense was decent on the season and unlike other teams they have key players that have entered the draft but will still play in this bowl game. The Bulldogs rank 53rd in the nation defending the pass and 52nd defending the run.
Betting Trends
Mississippi State
3-0-1 ATS in their last 4 non-conference games
1-4 ATS in their last 5 neutral site games
Over record of 4-1 in their last 5 neutral site games
Illinois
3-0-1 ATS in their last 4 non-conference games
9-2-1 ATS vs. a team with a winning record
11-4 ATS in their last 15 games overall
Under record of 4-1 in their last 5 non-conference games
Here are the score predictions from our model for this game.
Mississippi State         -1.5          15   NEUTRAL 
Illinois                  45.5          20
  
Mississippi State         -1.5          22   NEUTRAL 
Illinois                  45.5          23
  
Mississippi State         -1.5          17   NEUTRAL 
Illinois                  45.5          19
College football is an emotional game. These are kids. Emotion is often overlooked in college football. Countless games have been won or lost due to emotional edges. Emotion can make a team play better and emotion can make a team play worse.
We think this is a situation that will work in favor of Miss State. Here is a quote from an article pertaining to the death of Mike Leach and this Bowl game.
"The players are 100% behind playing this bowl game and doing what coach Leach would expect them to do," interim athletic director Bracky Brett told ESPN. "We all know that's what coach Leach would want, and it's what we should do."
In a game that looks close on paper, it's hard to imagine Miss State not having a little extra in their tank as they go out and dedicate this game to their fallen coach and college football legend Mike Leach.
Miss State -1