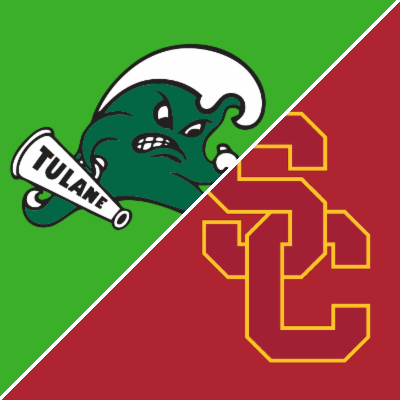 #16 Tulane Green Wave (11-2) vs. #10 USC Trojans (11-2)
USC had their chances to play in the College Football Playoffs with a loss in the Pac 12 title game and they face a Tulane team that comes into the game winning two in a row facing ranked teams. The Trojans are a slight 1.5-point favorite with the total at 62.5.
The public has slightly backed USC in this bowl game, as they opened as a 1-point favorite and as of December 26th they are a 1.5-point favorite.
On the season Tulane is 11-2 ATS with an O/U record of 7-6 and USC is 8-5 ATS with an O/U record of 10-3
This bowl game will be held at the neutral site of Arlington at AT&T Stadium in Arlington, Texas.
Tulane has not played in a New Year's Six bowl game since 1940.
Three in a Row?
Tulane won their last three games of the season and in their last two games they beat ranked teams. They won the American Athletic Conference title game in their last one beating Central Florida 45-28.
QB Michael Pratt (2,776 yards 25 TD 5 TD) announced he is coming back to Tulane next season rather than enter the transfer portal and he was huge in the AAC title game passing for 394 yards with four TD and one INT.
The Green Wave have a good WR corps with three receivers with at least 467 yards. Shae Wyatt led the team with 692 yards and seven TD and had at least 104 receiving yards in two of the last three games.
One key player in this game is Tulane RB Tyjae Spears (1.376 yards 15 TD), who averaged 6.5 yards per carry on the season and ranked 14th in the nation in rushing yards. He has rushed for at least 121 yards in the last seven games and in the last two tore it up rushing for 199 yards and 181 yards, respectively.
While USC has a dynamic offense, they did have issues on defense this season. They gave up an average of 27.9 ppg and only rank 107th in the nation defending the pass and 57th defending the run.
Can USC Get Up for this Game?
USC lost in the Pac 12 title game, which cost them a shot at the CFP. While a New Year's Six bowl game can they get up for it facing Tulane after the huge letdown in the last game? Big question.
The Trojans are led by Heisman winning QB Caleb Williams (4,075 yards 37 TD 4 INT), who also ranked third on the team with 372 rushing yards. He injured his hamstring in the 47-24 loss to Utah in the Pac 12 title game and is listed as probable and he stated he will play.
The Trojans have a stacked WR corps with five receivers with at least 346 yards led by the duo of Jordan Addison (875 yards 8 TD) and Tahj Washington (676 yards 6 TD).
USC lost lead RB Travis Dye (884 yards 9 TD) for the season with an injury and Austin Jones (664 yards 5 TD) will be the lead back in this bowl game. After totaling 274 yards in two games, he only had 35 yards on 15 carries in the loss to Utah in the last game. Williams only averaged 3.4 rushing yards per game and he did not rush for over 35 yards in any of the last three games.
Williams and company will be going up against a Tulane defense that ranks 26th in the nation against the pass and 75th against the run.
Betting Trends
Tulane
15-3 ATS in their last 18 games overall
8-1 ATS vs. a team with a winning record
Over record of 4-0 in their last 4 games
USC
4-0 ATS in their last 4 non-conference games
4-1 ATS vs. a team with a winning record
0-5 ATS in their last 5 bowl games
Over record of 7-0 in their last 7 games
Here are the results from our model for this matchup. (note the current line is USC -2)
Tulane                    -1.5          31   NEUTRAL 
Southern Cal              63.0          33 full season
  
Tulane                    -1.5          54   NEUTRAL 
Southern Cal              63.0          38 last 4 games
  
Tulane                    -1.5          46   NEUTRAL 
Southern Cal              63.0          43 last 7 games
2 of the 3 predictions favor Tulane plus the small spot in this one. We fully expect Tulane to come to play. We've seen other AAC schools in big spots represent themselves quite well against the college football elite. Specifically UCF and Cincinnati.
No reason to think Tulane won't show up and give USC all they can handle despite the fact that they played a much weaker schedule. Note that they beat a very good Kansas State team earlier in the year.
But we'd need a bigger number in order to get behind the Green Wave here. Instead, we're going to play this game to go over the total in what looks to be a highly entertaining game.
USC/Tulane OVER 63