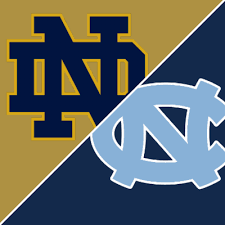 Once again the Fighting Irish of Notre Dame present us with one of the most intriguing games of the week as they head East to take on the North Carolina Tarheels. Circa Las Vegas opened this game pk and there is now a mix of -1.5's and -2's on the board favoring North Carolina. The total at betonline is 56, down from 59.
The game is intriguing because it wasn't supposed to be this way for the Irish. This is a team loaded with talent that won 11 games last season. They weren't supposed to lose to Marshall. They weren't supposed to squeak by Cal. Their starting QB wasn't supposed to be lost for the year in just the 2nd game.
On the flip side, no one thought they would hang with Ohio State in week 1. But they did. So the intrigue lies in which team shows up against the Tarheels. Can the Irish fall to 1-3? If so, will Marcus Freeman survive the year?
A Shootout Last Year
These two met last year in South Bend. Notre Dame came away with a 44-34 win in a game that was statistically even. Both teams had over 500 yards of offense and at one point in the 3rd quarter the Tarheels held a 20-17 lead.
Logic would suggest that this year's game won't match last year's offensively. The Irish are down to their back up QB and North Carolina lost stud QB Sam Howell to the NFL. That combined with the Notre Dame defense containing Ohio State in week 1 and sacking Cal 6 times last week explains the line move on the total from 59 to 56.
The Tarheels offense certainly looks like is hasn't missed a beat thus far. They have scored 56, 63 and 35 points in 3 games. While two of those came against Georgia State and Florida A&M, the other came against an App State team that held Texas A&M to 14 points and 186 total yards.
Irish Defensive Line Key
This game is likely decided by the Notre Dame defensive line vs. the North Carolina offensive line. The Irish defensive line is one of the best in college football. The Tarheels offensive line has been a problem for awhile.
We think the Irish let the inexperienced Drew Pyne do just enough to manage the game and put a few points on the board while the defense takes care of the rest. In that scenario Notre Dame comes away with a close win and the game goes under the posted total.
UNDER 56.5
Notre Dame +2