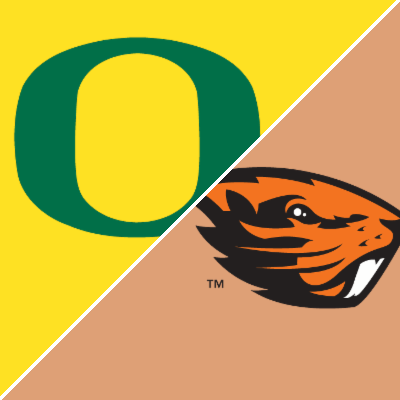 #9 Oregon Ducks (9–2) at #21 Oregon State Beavers (8-3)
This Civil War game has a lot on the line, as if Oregon wins, they will book their ticket to the Pac 12 title game. The Ducks are a 3.5-point road favorite in this game with a total of 58.5.
The public money has nearly been split in this game, as Oregon opened as a 3.5-point favorite and that has not changed as of Thursday.
Oregon has won four of their last five games facing Oregon State, but lost to them the last time facing them on the road in 2020.
On the season Oregon is 8-3 ATS with an O/U record of 6-5 and Oregon State is 9-2 ATS with an O/U record of 6-5.
Looking to Make History
With a win against Oregon State, Oregon would make history, as the first team ever to play in four straight Pac 12 title games. The team ranks fourth in the nation in scoring (40.2 ppg) and ranks 18th in passing yards per game and 12th in rushing yards per game.
The Dynamic Ducks offense is led by QB Bo Nix (3,062 yards 25 TD 6 INT) and in Oregon's last game he passed for 287 yards. with a TD and an INT in the big 20-17 win over, then, 10th ranked Utah. He did little on the ground in the last game but on the season ranks third on the team with 513 rushing yards with 14 TD.
Bucky Irving (851 yards 3 TD) and Noah Whittington (673 yards 7 TD) are the two lead backs and each is averaging at least six yards per carry. The Ducks have four WRs that have at least 319 receiving yards led by Troy Franklin (789 yards 7 TD), who is averaging 16.4 yards per catch.
Nix is playing behind a great offensive line that has only allowed three sacks all season. He will be facing an Oregon State defense that ranks a solid ninth in the nation against the run but only 70th against the pass.
Back on the Horse
After losing two in a row, both to top 12 teams, Oregon State has won five of their last six games including their last two. While the Beavers are 8-3 and only lost one home game, against USC, they have not beaten a ranked team this season. On top of that they have won two in a row but they were against Arizona State and Cal, who have combined for only four conference wins.
Oregon State is led by the ground game, as they rank 33rd in the nation in rushing yards per game but only 94th in passing yards per game.
Ben Gulbranson (1,230 yards 8 TD 3 INT) has not passed for over 188 yards in the last two games but does have three TD and no INT in the last two games. Tre'Shaun Harrison (589 yards 4 TD) and Anthony Gould (457 yards 3 TD) lead the WR corps and Gould is averaging 16.9 yards per reception.
Three RBs for the Beavers have rushed for at least 393 yards led by Damien Martinez (867 yards 7 TD, who is averaging 6.1 yards per carry and he has rushed for 100+ yards in each of the last five games.
While Oregon State is led by the ground game they may want to go to the air in this game, as Oregon ranks a legit 21st in the nation in run defense but fourth to last in the nation in pass defense.
Betting Trends
Oregon is 6-1 ATS in their last 7 games overall and 5-2 ATS vs. a team with a winning record.
Oregon State is 5-0 ATS in their last 5 games overall, 14-3 ATS in their last 17 home games, and 5-1 ATS vs. a team with a winning record.
Oregon is 6-2 ATS in their last 8 road games facing Oregon State.
Here are 3 score predictions from our model using 3 different time frame parameters.
Oregon                    -3.0          28           
Oregon State              57.0          31 FULL SEASON DATA
  
Oregon                    -3.0          16           
Oregon State              57.0          24 LAST 4 GAMES DATA
  
Oregon                    -3.0          25           
Oregon State              57.0          26 LAST 7 GAMES DATA