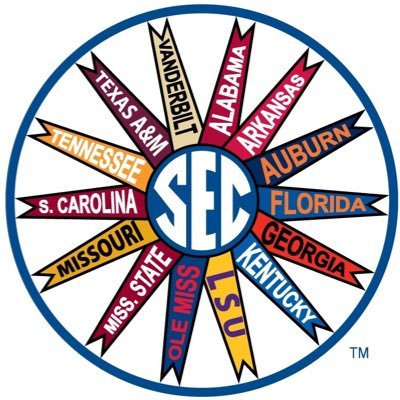 This week in SEC college football action we have two games that feature teams in the top 20 as #2 Alabama takes on #20 Arkansas and #7 Kentucky takes on #14 Ole Miss. In other action LSU is at Auburn, Texas A&M is at Miss State, #1 Georgia is at Missouri and Florida hosts Eastern Washington.
Alabama at Arkansas – Alabama is a -17 point road favorite with a total of 61 at Arkansas this week. The Tide leads this series 25-7 going back to 1962 and they have won 15 straight by an average score of 42-16. The teams combined for over 1000 yards last year with Alabama leading from start to finish in their 42-35 win.
Using yards per point to rank, Alabama comes in with the #5 ranked offense with a ypp number of 10.7 and the #4 ranked defense with a ypp number of 27.8. Big surprise huh? Arkansas ranks in the 50's in on both sides of the ball.
Of note here is that Arkansas has played the more difficult schedule thus far by about 7 points with Alabama's only test coming against Texas, a test they almost failed.
Arkansas came up 2 points short last week against Texas A&M. They'll face another great defense in Alabama but the difference this week will be Alabama's offense. The Aggies rank 77th offensively (ypp) to Alabama's 4th.
Our Model has Alabama on top here by a score of 33-13. So, a cover by a nose and of course the back door is open for Arkansas. But the better play here might be the total where our number comes in 15 points less than the posted total. Alabama/Arkansas UNDER 61.
Kentucky at Ole Miss – Ole Miss is a -6.5 point favorite hosting Kentucky this week with a total of 54.5. This is #7 taking on #14 but to be honest, neither of these teams is worthy of their lofty rankings. Kentucky did knock off Florida. But 31-23 over Northern Illinois is hardly impressive. Neither is 35-27 over Tulsa in the case of Ole Miss.
If we trust the stats, albeit against weaker opposition, Ole Miss is the superior team. They have one of the best running games in the nation and Kentucky's is non existent behind a struggling offensive line. You still have to be able to run the ball to win football games especially in the SEC. Kentucky fails that test thus far.
As in the Alabama game above, we think the total is the way to go in this one. Last year this game saw 83 points scored. This year we think it could be the polar opposite. We see this one going under the total of 55, likely with Ole Miss on top by just enough to cover the -6.5. UNDER 55
LSU at Auburn – LSU heads to Auburn as -8 point favorites with a total of 45.5. The natives are starting to get restless in Auburn. Their team can't score and has been anemic offensively. Rumors are starting to swirl about the future of head coach Bryan Harsin. Lastly, starting QB T.J. Finley is out with a shoulder injury, though that might be a good thing.
Auburn has an offensive ypp number of 19.1 which ranks them 116th in the land. They face an LSU team that ranks 20th defensively with a ypp number of 19.2. It's also an LSU team with a superior ground game.
LSU should win this one. We have it 24-14 which also means the under 45.5 is worth a look.
Texas A&M at Miss State – In other SEC action this week we see Texas A&M visiting Miss State in what looks to be a very close low scoring game. We favor Texas A&M +4 and UNDER 45.5.
Georgia at Mizu – Georgia is a big 28 point favorite at Mizu this week and can likely name their score. Though we have to wonder how Kent State managed 22 points. We have zero interest in this one.
Eastern Washington at Florida – Lastly we have Florida hosting Eastern Washington. As we write this on Tuesday this number has just been posted on the board as Florida -29. We don't see the 29 staying there for long as we have the Gators by 38. Florida -29 on the opener.