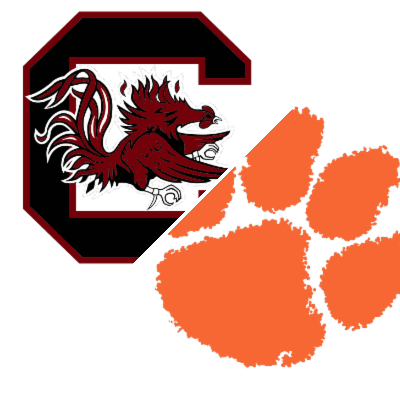 South Carolina Gamecocks (7–4) at #8 Clemson Tigers (10-1)
Bragging rights in South Carolina is up for grabs when 8th ranked Clemson looks to keep their slim CFP hopes alive playing host to South Carolina. The Tigers are a big 14.5-point betting favorite in this non-conference rivalry with the total sitting at 51.5.
The betting public has slightly backed Clemson, as they opened as a 14-point favorite and as of Thanksgiving Thursday they are a 14.5-point favorite.
On the season both of these teams are 6-5 ATS with an O/U record of 6-5.
These teams meet annually and Clemson has won the last six meetings and in the last two have outscored the Gamecocks 68-3.
WOW!
In their last game South Carolina was a 23.5-point home underdog facing, then, fifth ranked Tennessee but they blew up and steamrolled the Volunteers beating them 63-38. The Gamecocks lost their first two games facing ranked teams but have won their last two facing top 25 squads.
South Carolina ranks tied for 42nd in the nation averaging 31.7 ppg and they rank tied for 45th in passing yards per game and 96th in rushing yards per game.
The 63 points scored in the last game was the third time this season the Gamecocks have scored at least 50 points.
Spencer Rattler (2,420 yards 14 TD 9 INT) was huge in the last game passing for 438 yards with six TD and no INT and he had averaged 172.3 passing yards in his previous eight games. His two main targets are WRs Antwane Wells Jr. (767 yards 4 TD) and Jalen Brooks (471 yards 1 TD) and Wells Jr. had 177 receiving yards in the big win over Tennessee.
Lead RB MarShawn Lloyd (556 yards 9 TD) has missed the last three games with a quad injury and is listed as questionable. The team's second leading rusher is TE Jaheim Bell (232 yards 2 TD) and he rushed for 80 yards against Tennessee.
The Gamecocks will be facing a Clemson defense that ranks 38th in the nation against the pass and eighth against the run.
Tigers Need a Lot of Help
Clemson needs to win their last two games, including the ACC title game facing North Carolina, and get help to sneak into the CFP. I mean they are eighth in the CFP rankings and are even behind two teams that have two losses in LSU and Alabama.
The Tigers have won two in a row since their lone loss against Notre Dame and in the two wins they have outscored their opponents 71-26. In their last game they were at home and crushed Miami 40-10.
Clemson ranks 27th in the nation averaging 34.7 ppg and they are pretty balanced ranking 45th in rushing yards per game and 70th in passing yards per game.
DJ Uiagalelei has passed for 2,412 yards with 21 TD and only 6 INT but four of the picks have come in the last four games. He is also the team's second leading rusher (494 yards 6 TD) and in the blowout win over Miami he rushed for 89 yards and a TD and passed for 233 yards with two TD and a pick.
Antonio Williams (512 yards 3 TD) leads four Tigers that have at least 308 receiving yards. Will Shipley leads the team with 960 rushing yards and 13 TD. After two big games with at least 121 yards, he has failed to rush for over 100 yards in the last three games and in the last one rushed for 61 yards and a TD but only averaged 3.6 yards per carry.
In terms of South Carolina's defense, they rank 54th in the nation against the pass and only 109th against the run. While they crushed Tennessee last week the Gamecocks still gave up over 500 yards of total offense.
Betting Trends
South Carolina is 3-8-1 ATS in their last 12 road games, 3-7 ATS vs. a team with a winning record, and they have an Over record of 11-3 in their last 14 road games.
Clemson is 5-2 ATS in their last 7 games overall, 2-9 ATS in their last 11 non-conference games, and they have an Under record of 5-2-1 in their last 8 non-conference games.
Clemson is 4-1 ATS in their last 5 games facing South Carolina.
Here are 3 score predictions from our model using 3 different time frame parameters. All favor South Carolina plus the points.
South Carolina            50.5          21           
Clemson                  -14.5          34 full season data
  
South Carolina            50.5          26           
Clemson                  -14.5          34 last 4 games data
  
South Carolina            50.5          19           
Clemson                  -14.5          29 last 7 games data