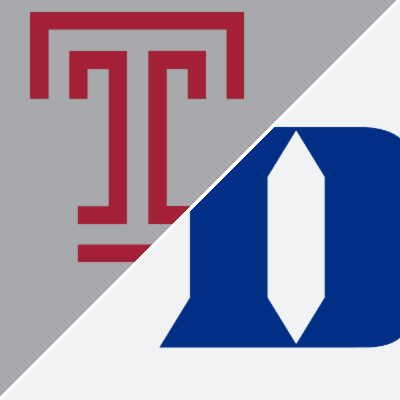 Duke will host Temple on Friday night September 2nd in a game that kicks off at 7:30 PM EST. Duke is an 8 point favorite with a total of 53.5. The Big question surrounding this game is, does anyone care?
Talk about two teams with similar circumstances! These two teams are mirror images of each other in terms of their recent history. More specifically, their recent failures.
Both of these teams had atrocious seasons in 2021 and 2020. Temple was 1-6 in 2020 and 3-9 in 2021. Duke was 2-9 in 2020 and 3-9 last season. Not only did these teams lose the last two seasons but the majority of both teams losses weren't even close.
Temple and Duke Look to Rebuild
So now both of these programs find themselves in rebuilding mode. They both have new coaches and coordinators and are left with gaping holes to fill.
Duke brought in Mike Elko to run the show. Elko is a defensive guy who was recently the DC at Texas A&M. By all accounts, this is the right guy for the job and he's been given a long leash to get the job done. He has no head coaching experience.
Temple has turned to Stan Drayton to get the job done. Drayton has been around but has spent just about the entirety of his career as a running backs coach. Like Elko, he has no head coaching experience.
Obviously this is a tough game to handicap. With that said, it looks as though the edge would have to go to Duke.  It's tough to tell who the better head coach will be. Neither has experience at the top. Elko has had the higher profile jobs with a DC being higher up the food chain than a Running Backs coach, but that doesn't translate into head coaching success.
While both teams were losing the past two years, Duke was losing to a more difficult, ACC schedule. Would Duke have fared better playing the weaker schedule Temple played? Perhaps. It certainly stands to reason that Duke should be able to recruit the better talent which could be the difference here with both teams starting from scratch.
Low Scoring Game?
But rather than mess with the side in this game, we're going to look towards the total. A look at both of these squads over the last half of 2021 shows us some anemic offensive output.
Over the course of their last 7 games of 2021, Temple managed to score 14 points twice. The other 5 games saw them score 3, 7, 3, 8 and 10. That's an average of 8 points per game.
Duke was better, but not by much. Over the course of their last 8 games they managed to score in the 20's three times but overall managed 14.8 points per game during that stretch.
So, low offensive output, new coaches and coordinators on both sides, both looking to start out 2022 in the win column. More than likely, for a good chunk of the game we'll see some conservative play calling as two teams who were terrible running the ball last year attempt to establish the run.
We'll take a stab at the under here.
Temple/Duke UNDER 54