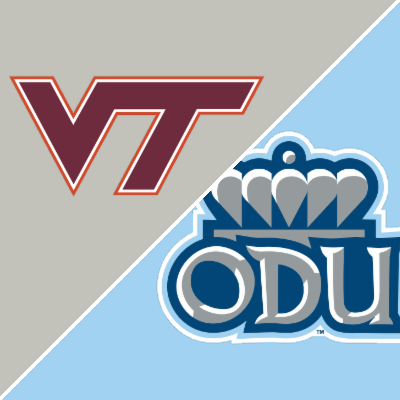 Old Dominion will host Virginia Tech on Friday night September 2nd in a game scheduled to kick off at 7 PM EST. Virginia Tech is favored by anywhere from 7 -115 to -8.5 as of this late July writing.
Virginia Tech is in off of a mediocre 6-7 season which ended with A 54-10 ass kicking at the hands of Maryland in the Pinstripe Bowl. That led to coach Justin Fuente getting canned and marked the arrival of new Head coach Brent Pry who was the defensive coordinator at Penn State.
Tech Lacks Talent
Those in the know in college football state that this Virginia Tech team lacks talent in a big way. It's been suggested that they don't have a skill player on offense that would be in the top half of the ACC as far as talent goes.
Defensively they should be ok. They return 7 starters and Pry is a defensive guy. There's at least something to work with there.
Old Dominion did not play in the 2020 Covid season. That was likely a good thing considering they were 1-11 in 2019. But they bounce back nicely last season with a 6-7 year and a Bowl game where they lost to Tulsa 30-17.
Old Dominion started the season 1-6 last year and things looked bleak. They then rattled off 5 straight wins to qualify for that Bowl game. That's certainly something to build on heading into this year. It's also worth mentioning that 3 of those early season losses were by a TD or less. So there was some fight in these Monarchs.
Not the Same Without Beamer
Let's be clear. If things were as they should be at Virginia Tech, Old Dominion wouldn't belong on the same field. Legendary coach Frank Beamer left in 2015. The Hokies managed to win the following two years mostly due to talent Beamer brought in. But since then, they haven't been able to right the ship.
Old Dominion and Virginia Tech played 3 times. In 2017, 2018 and 2019. Tech went 2-1 in those games with Old Dominion pulling the upset in 2018, at home, 49-35.
It might just be that Old Dominion is catching the Hokies at the right time to have a shot in this game. They get a Tech team that could struggle on offense that has a new coach and coordinators with new schemes.
The Monarchs return 10 starters on offense and 7 on defense to a team that really got things going over the course of the 2nd half of last season. It's really a perfect set up for this team to pick up where they left off last year.
Where that opportunity figures to be strongest is in the 1st quarter and 1st half of this opening game. Again, they are largely intact from a year ago facing a team in Virginia Tech that absolutely figures to have some growing pains.
We'll take a shot with Old Dominion here. We'll take a 1 unit wager and divide it into 3 equal parts as follows.
Old Dominion + the points 1st quarter
Old Dominion + the points 1st half
Old Dominion + the points full game