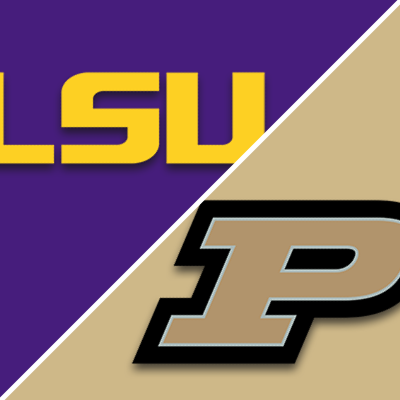 #17 LSU Tigers (9-4) vs. Purdue Boilermakers (8-5)
In the Citrus Bowl matchup between a couple of teams that lost in their respective conference championship games LSU from the SEC faces Purdue from the Big 10. LSU comes into this bowl game as a major betting favorite posted at -14.5 with the total sitting at 55.5.
To say the betting public has backed the Tigers would be a major understatement. They opened as a 6-point favorite and as of December 26th they are a 14.5-point favorite.
On the season LSU is 7-6 ATS with an O/U record of 7-6 and Purdue is 5-8 ATS with an O/U record of 8-5.
The Citrus Bowl is being held at the neutral site of the Camping World Stadium in Orlando, Florida.
Interesting that this is the first ever game between these teams.
Ending Poorly
LSU had won four in a row and had a chance for the CFP but they lost their last two games where they gave up 88 points. In their last game in the SEC title game they lost to top-ranked Georgia 50-30.
The Tigers will be without three defensive linemen in BJ Ojulari, Ali Gaye and Jaquelin Roy, who have all opted for the NFL Draft.
LSU has a balanced offense that ranks in the top 46 in the nation in passing yards per game, rushing yards per game, points per game, and points allowed per game.
Jayden Daniels led the Tigers with 2,774 passing yards with 16 TD and 3 INT and he also led the team with 818 rushing yards and 11 TD. He has only passed for two TD over the last four games and after totaling 195 rushing yards in two games he was stuffed in the last game with -6 yards.
Lead RB Josh Williams, who rushed for 55 yards in the SEC title game, is listed as probable and the Tigers have two other backs that have at least 328 rushing yards. Five players for the Tigers have at least 326 receiving yards led by WR Malik Nabors (854 yards 2 TD), who had 128 yards in the last game and has at least that many yards in two of the last three games.
Daniels and company will be facing a Purdue defense that ranks 56th in the nation against the pass and 46thagainst the run.
No Wonder for the Line
No surprise the line for this game has jumped since opening, as a slew of players are not playing getting ready for the NFL Draft. QB Aidan O'Connell, WR Charlie Jones, TE Payne Durham, CB Cory Trice and LB Jalen Graham are all out. Those are big losses, as Durham and Jones were both first team All Big 10 selections and O'Connell was a second team pick.
Besides all the players out Purdue head coach Jeff Brohm will not be on the sidelines, as he takes over at Louisville. The recently hired Ryan Walters, who was the defensive coordinator at Illinois this season, takes over and has a tall task with a new and shorthanded team.
Senior Austin Burton will be making only his second start of the season and in his lone one he was 21-29 for 166 yards with three TD and one INT. The loss of WR Jones is big, as he set a slew of team records this season with 1,361 yards with 12 TD. On top of that Durham ranked second on the team with 560 yards. TJ Sheffield (424 yards 3 TD) and Mershawn Rice (273 yards1 TD) will play but it will be hard to replace nearly 2,000 receiving yards with the top two targets out.
The Boilermakers may lean on the run more in this game behind Devin Mockobee (920 yards 9 TD), who combined to rush for 170 yards in the last two games.
LSU's defense gave up 38 points and 50 points, respectively in their last two games and for the season ranks 52nd in the nation in pass defense and 55th in run defense.
Betting Trends
LSU
5-2 ATS in their last 7 bowl games
20-8 ATS in their last 28 games following a ATS loss
Over record of 6-1 in their last 7 games
Purdue
2-5 ATS in their last 7 games overall
5-2 ATS vs. a team with a winning record
4-1 ATS in their last 5 vs. SEC
Over record of 6-0 in their last 6 Bowl games
The prediction from our model would be of little help in this one as both sides are missing key players. For Purdue it's their head coach, QB, Top WR and TE. For LSU it's three defensive linemen. So who knows.
We'll take 16 points with the dog in this one.
Purdue +16