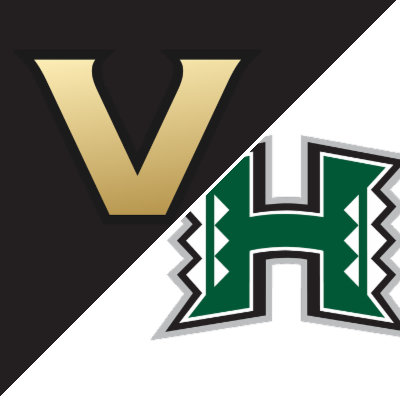 Hawaii will host Vanderbilt on August 27th to kick off the 2022-2023 season for both programs. The game will take place at tiny Clarence T.C. Ching Athletics Complex which seats 9000 as the Rainbow Warriors await the start of construction on their new stadium, scheduled to be completed by 2026.
Vanderbilt opened as a -2.5 road favorite but money has poured in on the Commodores pushing the number all the way to -6.5 (even -7) as of Mid July. The total is 55.
Games such as this present a challenge to any handicapper. There's plenty of guesswork involved and honestly, it can be a crapshoot.
Vandy Just 6 Winning Seasons Since 1959
On the one hand, you have a Vandy team coming of off yet another losing season at 2-10, in what was coach Clark Lea's 1st year. Their two wins came against Colorado State and lowly UCONN.
Of course losing is nothing new to Vanderbilt. They had back to back 9-4 seasons in 2012 and 2013 but prior to that had only 4 winning seasons since 1959.
But Vandy returns the bulk of it's starters this year so experience and team chemistry won't be an issue.
Players Left Hawaii In Droves
Then you have Hawaii. Allegations of abuse of Hawaii players by 2nd year coach Todd Graham surfaced and sent the program inti a tailspin. Players left the program in droves leaving the cupboard bare for the 2022 season.
Many new faces via the transfer portal and a new head coach, former Hawaii super star QB Timmy Chang are in place and ready to roll. But ready to roll where? Good luck figuring that one out.
Certainly, early bettors feel that Vandy is in better shape to grab a win in week 1 as the 4.5 point line move indicates. But there are other factors to consider.
One being the long journey Vandy has just to play this game. Nashville, Tennessee, is a long way from Hawaii. Aside from the long trip. there's bound to be plenty of distractions for a bunch of kids in their late teens and early 20's!
Vandy will also have to deal with a Hawaii run and shoot style offense that could give the defense fits in the early going.
Our Pick
Playing 1st quarters and 1st halves early in the college football season is a strategy we have used successfully for years in these types of situations. Anything can happen early in football games regardless of the talent levels. How often have we seen top teams fall behind early in games only to end up winning by 40 points?
Only in this case, we're not even dealing with a top team. We think Hawaii will have an early edge in this one and also feel +7 is worth a look for the game as well. This game could be entertaining and close.
We'll make 3 small plays here.
Hawaii +7 for the game
Hawaii + for the 1st half
Hawaii + for the 1st quarter