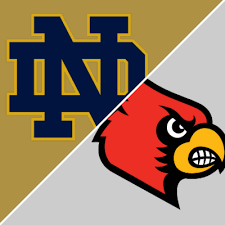 Louisville will host Notre Dame in a game that kicks off at 7:30 pm est on Saturday night with the Irish favored by -6.5 and a total of 54 at betonline sportsbook. Notre Dame comes in at 5-1 and ranked 10th in the nation. The Cardinals are undefeated at 5-0 and ranked 25th.
There's not much of a series history to dive into here. These two teams have met just 3 times before with Notre Dame winning 2 of those with 2 of the 3 games being close.
2020 – Notre Dame 12, Louisville 7
2019 – Notre Dame 35, Louisville 17
2014 – Louisville 31, Notre Dame 28
On the surface, at first glance, Louisville would be an automatic play for us. We've made a living off of betting quality college football underdogs over the years as it can be one of the best bets in sports.
Huge Game for Cards
This one has all the ingredients for an emotional performance by the Cards. They are ranked 25th and facing the 10th ranked team. So a win here is an automatic huge boost in the rankings.
The Cards are at home, in PRIME TIME and facing none other than one of the top 3 college football programs in the history of the game, historically speaking. EVERYONE gets pumped to face the Irish. Prime time and at home is just icing on the cake.
Some of the numbers we like to look at suggest a close one as well. Here are the yards per point numbers. Notre Dame ranks 16th and Louisville 28th. That's out of around 120 college football teams we track.
| | | |
| --- | --- | --- |
| Notre Dame | 13.6 | 19.6 |
| Louisville | 13.8 | 17.1 |
Those ypp numbers above show solid play on both sides of the ball. Another number college football handicappers like to look at is yards per rushing attempt differential.
| | |
| --- | --- |
| Notre Dame | 1.6 |
| Louisville | 0.8 |
Again, solid numbers. Notre Dame 25th and Louisville 38th.
Schedule Strength Matters
But numbers may not always be what they seem. Who those numbers were compiled against is crucial. Take a look at Louisville's dance card so far. Ga Tech, Murray St, Indiana, BC and NC State.
The Irish played some cupcakes too, but they also played Ohio State and Duke and they beat NC State by 21 while Louisville squeaked by with a 3 point win.
Having to get motivated to play Duke last week after such an emotional game against the Buckeyes had to be tough. There should be no such hangover this week against the Cards.
We look for the Irish to show up this week and for the superiority in their lineup to take over as the game moves along.
Our Numbers say Notre Dame by 10+.
Notre Dame -6.5