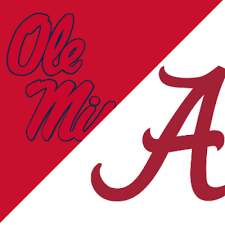 In the SEC opener for both teams 13th ranked Alabama plays host to 15th ranked Ole Miss.
Alabama is the 7-point favorite at wagerweb in this SEC clash with the total sitting at 55.5 points. The public has bet this game even, as the line opened at -7 and that is what it is still at as of Thursday morning.
Ole Miss is 3-0 and they already beat a ranked team in taking down Tulane in their second game. In their last game they were at home and beat Georgia Tech 48-23 where they covered the spread as a 16.5-point favorite with the total going Over.
In their last game Alabama got over their big loss to Texas with a 17-3 road win over South Florida. They came nowhere near covering the spread as a 34.5-point favorite and the total went well Under.
On the young season Ole Miss is 3-0 ATS and Bama is 1-2 ATS failing to cover in their last two games.
Last season at Ole Miss the Crimson Tide beat the Rebels 30-24.
Blowing Up in the Second Half
In their 48-23 win in their last game facing Georgia Tech, Ole Miss was only up 10-3 at halftime but blew up in the second half scoring 34 points. They had a balanced offensive attack and outgained the Yellow Jackets 550 yards to 474 yards.
Jaxson Dart passed for 251 yards with one TD in the win over Tech and led the team with 136 rushing yards and two TD and Jordan Watkins and Dayton Wade combined for 205 receiving yards.
Dart leads an offense that ranks ninth in the nation in passing yards per game and tied for 50th in rushing yards per game. He also leads the Rebels in rushing yards and the top RB is Quinshon Judkins (145 yards 4 TD). Judkins is only averaging 3.3 yards per carry and in the last two games has only totaled 85 yards and in both games failed to average over 2.8 yards per carry.
Ole Miss will be facing a Bama defense that ranks 27th in the nation defending the pass and 49th defending the run. The defense for the Tide has a tall task facing a Rebels' offense that ranks third in the nation in drive score percentage (65%), fourth in points per game (52.7) and eighth in yards per play (8.2).
Good Thing for the Defense
In their 17-3 win over South Florida the defense for Alabama was impressive while the same cannot be said about their offense. The team was sluggish on offense and while the team rushed for 203 yards the passing game was not there. The Tide shut out the Bulls in the last three quarters and while they held them to 264 total yards, they did give up 177 rushing yards.
Ty Simpson and Tyler Buchner combined for only 107 yards and while neither through a pick neither had a TD. Roydell Williams rushed for 129 yards and a TD averaging 7.6 yards per carry and Jase McClellan chimed in for 74 yards.
Jalen Milroe (449 yards 5 TD 2 INT) got his starting job back and he will be under center in this game after not playing in the last one. He and the offense will be up against an Ole Miss defense that ranks 99th in the nation in pass defense and 67th in run defense.
Trends
Ole Miss is 6-4 ATS in their last 10 games facing Alabama.
Ole Miss has an Over record of 5-2 in their last seven SEC games.
Alabama is 3-7 ATS in their last 10 home games.
Our Pick Alabama -6.5