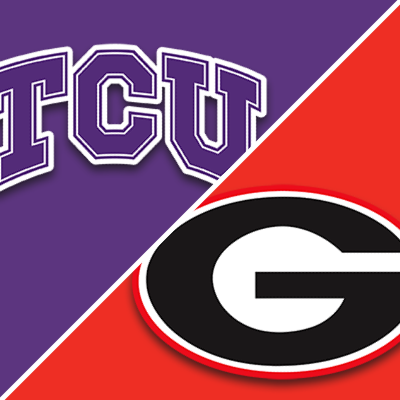 #3 TCU Horned Frogs (13-1) vs. #1 Georgia Bulldogs (14-0)
It is now down to two teams for all the marbles, as top-ranked Georgia looks to repeat as national champions facing TCU in the CFP title game. In the National Championship game the Bulldogs are a big 12.5-point favorite with the total sitting at 62.5.
Public money has been pretty even in this game and as of Thursday the spread has not changed since opening.
On the season TCU is 10-3-1 ATS with an O/U record of 8-6 and Georgia is 7-7 ATS with an O/U record of 6-7-1. 
This National Championship game will be held at the neutral site of SoFi Stadium in Los Angeles, California.
In the CFP semifinals TCU upset Michigan beaten them 51-45 as a 9-point underdog and Georgia beat Ohio State 42-41 failing to cover as a 4.5-point favorite.
Bouncing Back
TCU bounced back from losing the Big 12 title game with their 51-45 win over Michigan where they gave up 39 points in the second half to hold on. While they gave up 528 yards, they racked up 488 yards, rushed for 263 yards, and they returned two interceptions for scores.
The Horned Frogs are balanced and they showed that in the last game with 225 passing yards and 263 rushing yards. Max Dugan (3,546 yards 32 TD 6 INT) was picked off twice in the game but accounted for four scores with two passing TD and two rushing ones.
Quentin Johnston (1,066 yards 6 TD) leads a solid WR corps for TCU and he was huge in the last game leading the team with 163 receiving yards and a TD.
One big concern for TCU is that star RB Kendre Miller was hurt in the first half in the win over Michigan and head coach Sonny Dykes stated he is "questionable" to play. He rushed for nearly 1,400 yards this season but even with him missing most of the game senior Emari Demercado rushed for 150 yards with a TD and averaged 8.8 yards per carry and Dugan rushed for 57 yards.
While Georgia ranks second in the nation in scoring defense (12.8 ppg) and first in run defense the team did give up 42 points, 467 total yards, and 348 passing yards, in their win over Ohio State in the CFP semifinals.
Showing Resolve
In their win over Ohio State in the CFP semis, Georgia not only came back from a 21-7 deficit in the first half but a 38-14 deficit in the fourth quarter. The Bulldogs scored 18 points in the fourth quarter and they also had a little luck on their side, as Ohio State missed a game-winning 50-year field goal with only three seconds remaining.
UGA racked up nearly 400 passing yards with Stetson Bennett (3,823 yards 23 TD 7 INT) passing for 398 yards with three TD and only one pick and was only sacked twice.
WR Arian Smith only played in three games this season with three catches but had three receptions in the win over Ohio State for 129 yards and a TD. Star TE Brock Bowers, who led the team with 790 yards this season, had four catches for 64 yards.
Kenny McIntosh and Daijun Edwards have combined for 1,518 rushing yards this season and in the CFP semis combined for 128 yards.
Georgia will be facing a TCU defense that ranks 69th in the nation defending the run and 81st defending the pass.
Betting Trends
TCU
10-3-1 ATS in their last 14 games overall
4-0 ATS in their last 4 non-conference games
5-11 ATS in their last 15 neutral site games
Over record of 5-1 in their last 6 non-conference games
Georgia
15-7 ATS in their last 22 neutral site games
24-8 ATS in their last 32 games following a ATS loss
8-3 ATS in their last 11 bowl games
15-7 ATS in their last 22 neutral site games
0-4 ATS in their last 4 non-conference games
Over record of 4-1 in their last 5 games
Score Prediction Model
T.C.U.                    62.0          21   NEUTRAL 
Georgia                  -13.5          37 full season data
  
T.C.U.                    62.0          50   NEUTRAL 
Georgia                  -13.5          44 last 4 games data
  
T.C.U.                    62.0          27   NEUTRAL 
Georgia                  -13.5          35 last 7 games data
Our Pick
You might say this is a double edged sword for TCU. On the one hand, they can play with and score on anyone. They are battle tested and have moved the ball every game this year. Unfortunately, with only an exception or two, everyone has been able to move the ball rather easily on TCU all year and the same can't be said for Georgia.
But Ohio State showed that the Georgia defense can be exploited. No reason to think they'll shut down this TCU offense. No one else has. Count on both teams finding the end zone.
We're going to take TCU in this game but we're going to divide our wager by 3 and play the 1st quarter, 1st half a full game.
If Georgia ends up dominating this game the extended margin is likely to show up late in the game. Early on, with all of the adrenaline anything is possible and we saw the Bulldogs slow start against the Buckeyes.
TCU +3 1st quarter
TCU +7 1st half
TCU +13 for the game