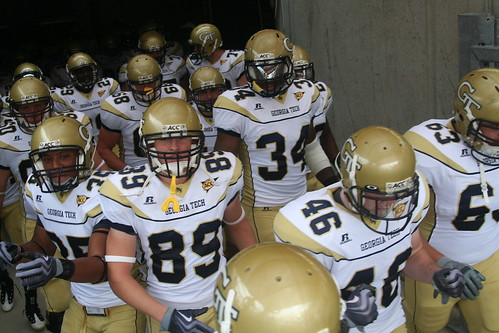 Georgia Tech's season win total betting line opened at over or under 4.5 wins for the 2019 college football season. Bettors quickly jumped in and started betting the under immediately. Are they right?
It's always interesting to watch and see what the betting public does when opening odds are posted. The odds and or point spreads take on a life of their own.
In the case of Georgia Tech football for 2019, bettors clearly felt that the sportsbooks and oddsmakers made a mistake. Currently, the money line on the under bet is -215. Remember, these prices start at -110!
Triple Option Is Gone
The reason bettors like the under is because the Yellow Jackets will look completely different under new head coach Geoff Collins, who comes over from Temple.
The triple-option is gone with a more spread-based attack in its place. The problem in this first season is that most of the roster was recruited to play the triple-option and that'll be the biggest hill to climb.
Because of that, the Yellow Jackets opened with an over/under of 4.5 wins with early money taking the under.
Most Offensive Positions Up for Grabs
Junior Lucas Johnson is most likely to start at quarterback in the first game of the season, though that position could be a revolving door. He competed for time with option-first QBs in the spring, but will have to fend off freshmen in the fall.
That'll be the case for almost every offensive position with new recruits having a decent chance to find playing time early due to the situation at hand.
The best news is that running back will be fine with Jordan Mason (659 yards, 7 TDs) and Jerry Howard (564 yards, 5 TDs) set to see the most work.
It's anyone's best guess at who the top receiver will be with senior Jalen Camp expected to play some kind of role with grad transfer Tyler Davis (UConn) also in the mix.
The line returns a few starters, but they'll all have to learn a new blocking style. This offense is a toss up with numerous freshmen expected to see time, whether at quarterback, receiver or on the line. Sure, there's talent, but this is a completely different offense.
Defense is Inexperienced
Defense doesn't have the same issue and while Collins is a former defensive coordinator, he doesn't have much experience to work with. The Yellow Jackets will focus a little more on getting pressure, but with seven starters gone, there's a question as to who the main playmakers will be.
The secondary returns the most experience with safety Tariq Carpenter and cornerbacks Tre Swilling and Jaytlin Askew. Linebacker is also in a decent spot with senior David Curry and sophomore Charlie Thomas, who saw a decent amount of time as a freshman.
The line is mostly new and it's likely former offensive linemen will get action on this side of the ball to help. This group is going to mix and match all season and will likely be a work in progress until November.
Bowl Game Possible But Not Likely
This is a huge overhaul for Collins so fans shouldn't expect to see immediate dividends in the first half of the season. A bowl game is possible again even if most are betting against it.
Unfortunately, the schedule isn't the most favorable with a trip to Clemson opening the season followed by a trip to Temple (Collins's former team) a month later. Even the home game against USF isn't a freebie.
The opportunities are there for home wins (USF, UNC, Pitt), but while they close the season with three home games, it's not a given they'll win any of them.
Six wins and a bowl game should be the goal for this team, though it'll have to battle all season to reach that number. The best-case scenario is that they find their quarterback in the first month and that leads to wins over UNC, Duke and Pitt in the middle of the campaign. If not, four wins is a logical landing point in a transition year.
Georgia Tech Opens with Clemson. Read our Clemson 2019 Betting Preview
2019 Georgia Tech Yellow Jackets Football Schedule
Aug. 29 at Clemson (opened +33.5)
Sept. 7 vs. South Florida
Sept. 14 vs. The Citadel
Sept. 28 at Temple
Oct. 5 vs. North Carolina
Oct. 12 at Duke
Oct. 19 at Miami (opened +10)
Nov. 2 vs. Pittsburgh
Nov. 9 at Virginia
Nov. 16 vs. Virginia Tech
Nov. 21 vs. NC State
Nov. 30 vs. Georgia