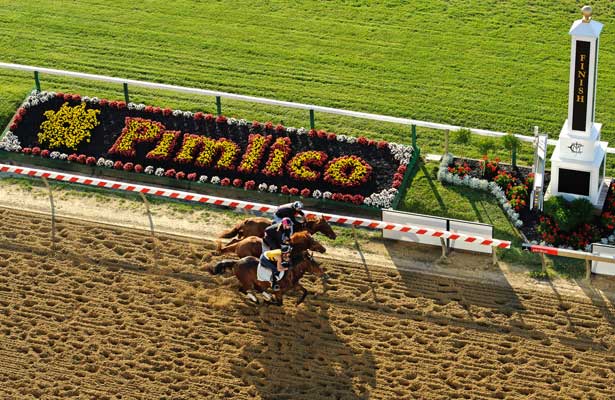 The 2019 Preakness Stakes from Pimlico Racecourse in Baltimore, MD will take place two weeks after the highly controversial disqualification of Maximum Security from first place in the Kentucky Derby.
Neither Maximum Security nor the official race winner, Country House, will compete in the second jewel of the Triple Crown. The field is still taking shape, but below are 11 contenders that have expressed interest in running.
A Look at the 11 Horse Field
ALWAYSMINING (Stay Thirsty, What Will Be by Anees) has won his three races this year by a combined 22 lengths while collecting $195,000 in purse money. His last win, the Federico Tesio Stakes, showed he can relax behind the early pace and take off at the command of his jockey, Daniel Centeno, a veteran, but lesser known jockey. The only knock you can make on this gelding is that he hasn't faced much in the way of competition yet. Despite that, he will be one of the top contenders for the Preakness.
ANOTHERTWISTAFATE (Scat Daddy, Imprecation by First Defence) just missed when second in the Grade 3 Sunland Derby before finishing second with a troubled trip in the Grade 3 Lexington Stakes. Before that, he won Golden Gate's El Camino Real Derby in a strong wire to wire performance. He fits well with this group and will be among the top win contenders.
BODEXPRESS (Bodemeister, Pied a Terre by City Zip) might be a maiden, but he's fast. He was one of the horses impacted by the now infamous incident at the 5/16 pole in the Kentucky Derby. Trainer Gustavo Delgado was quoted in the media stating his belief that Bodexpress would have hit the board if not for that. It would be nice to see a win to his credit, but that doesn't mean he can't take the Preakness.
BOurBON WAR (Tapit, My Conquestadory by Artie Schiller) finishes fast, but will need a quick pace to have a chance at winning. His connections have more incentive than some of the others on the basis of his absolutely outstanding pedigree. A win in the Preakness would make him a surefire Kentucky stallion candidate.
IMPROBABLE (City Zip, Rare Event by A.P. Indy) was one of three Bob Baffert entrants to the Kentucky Derby, but the only one that will continue on to the Preakness. He picks up the most accomplished jockey in horse racing history, Mike E. Smith, who was quoted in various outlets stating his belief that this colt's best days are in front of him. If he's right, this colt will be among the very best in all of horse racing.
LAUGHING FOX (Union Rags, Saskawea by Stormy Atlantic) is steadily improving, but will need a quick pace to get to the wire first. His last out win in the Oaklawn Park Invitational signaled that he's getting good at the right time of the year. Trainer Steve ASMUssen won the Preakness with Curlin in 2007 and Rachel Alexandra in 2009.
OWENDALE (Into Mischief, Aspen Light by Bernardini) made a run from the back of the pack to win the Grade 3 Lexington Stakes when last seen, but will need to use his previously displayed tactical speed in the Preakness. The bay colt is well rested and well bred. One of many with a true chance at winning the race.
SIGNALMAN (General Quarters, Trip South by Trippi), last year's Grade 2 Kentucky Jockey Club winner, didn't have enough points to make the Kentucky Derby. That might have been a blessing in disguise. Trainer Ken McPeek is notorious for running in the big races "just do it", but this contenders looks like he truly belongs. We would like to see him closer to the pace in the Preakness. If that happens, he can hit the board. Maybe even win.
WAR OF WILL (War Front, Visions of Clarity by Sadlers Wells) has been the focus of much media attention since his involvement in the incident at the 5/16 pole of the Kentucky Derby. The connection think he might have won if it hadn't happened. The connections of the DQed winner, Maximum Security, think he caused his own problems and as a result stole their trophy. Trainer Mark Casse says he's recovered well and is full of himself out on the track in the mornings. Expect him to be an underlay.
WARRIOR'S CHARGE (Munnings, Battling Brook by Broken Vow) has gone wire to wire in his last two races and could be the primary early pace horse in the Preakness. That alone makes him deadly. Especially on a track like Pimlico with tight turns that favor front running horses. The speed figures say he fits. We like him.
WIN WIN WIN (Hat Trick, Miss Smarty Pants by Smarty Jones) disappointed in the slop on Kentucky Derby day. He deserves another shot, but could be an underlay. Can he win this race? Yes, he can. Should you demand value? Yes you should.