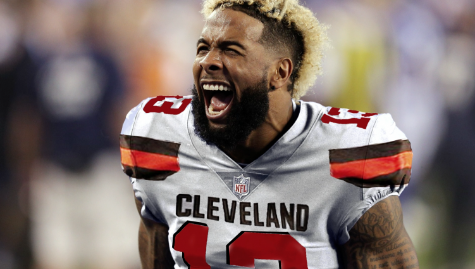 The Browns are coming off the first win of the season and in the Sunday night primetime game they host the Rams as a 3 point underdog with a total of 49.
Cleveland did win their last game, but it was facing a Jets team that was without their starting QB and also lost their backup QB in the game. Still, Odell Beckham Jr. had a breakout game and the defense held New York to only three points.
1st Meeting Since 2015
These teams have not faced off since back in the 2015 season and the Rams have covered the spread in four of their last five games against the Browns.
Cleveland held the Jets to only three points, but they have failed to cover the spread in their last seven games after holding their opponent to fewer than 15 points in their previous game.
The Rams have a solid game on offense in their last game in a 27-9 win over the Saints but a better game on defense holding New Orleans to 244 total yards. They only gave up 57 rushing yards and knocked Drew Brees out of the game with a thunm injury.
Rams Offense Balanced
Jared Goff passed for 283 yards with a TD and was not picked off and the WR duo of Cooper Kupp and Robert Woods combined for 194 receiving yards. Todd Gurley rushed for 63 yards and, overall, L.A. was efficient on the offensive side of the ball.
The Rams will use their balance against a Cleveland defense that has been decent on the season. However, Goff is legit and in the Monday night win over the Jets the Browns allowed 3rdstring QB Luke Falk to pass for 198 yards.
Odell Beckham Jr Impressive vs. Jets
Browns WR Odell Beckham Jr. had a big game in the win over the Jets with 161 receiving yards, an 89-yard score, and another one-hand catch that the star is famous for. Baker Mayfield got over his three INT game in the season opener by passing for 325 yards with a TD and an INT.
Nick Chubb rushed for 62 yards with a TD but did only averaged 3.4 yards per carry.
Many pegged Cleveland as a playoff team this season and they can show a lot in this game. However, their offensive line has issues and that is big in this game facing the Rams' defense.
Mayfield needs to play great in this game for the Browns to win and OBJ can help in that as can Chubb, who has 137 yards on the ground but is only averaging 3.9 yards per carry.
Our Prediction
The Rams have not only covered the spread in five of their last six games but also have covered in four of their last five road games.
The Browns failed to cover in their season opener at home and in their last 30 home games they have failed to cover the spread 21 times.
Which Browns team will show up in this game? The team that looks awesome on paper or the one that was beaten badly in their season opener and had 18 penalties?
I think it will be split, as Mayfield will play well, and the offense will be ok, but the Cleveland D will not be able to contain the Rams and their offensive attack.
The Browns may get some respect giving the defending NFC champion Rams a tough game but in the end, L.A. will win and cover.
PICK:Rams -3