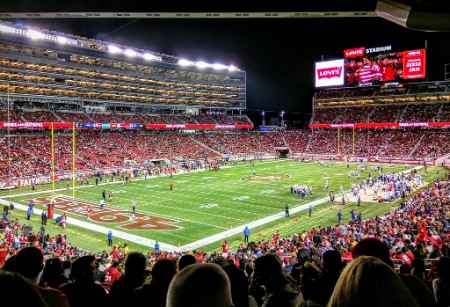 San Francisco is coming into this weekend following a loss for the first time all year, as they lost in overtime to the Seahawks 27-24. The offense struggled as they only scored 1 touchdown all night, instead they were held to 3 field goals.
If you wanted to offer up excuses you could mention that Garoppolo's favorite target TE George Kittle missed the game due to injury and Emmanuel Sanders got hurt during the game as well, which allowed rookie WR Deebo Samuel to step up as he had 8 catches for 112 yards.
San Francisco's stingy defense allowed only 20 points as the other 7 pts came from a Clowney defensive score. The 9er's are still uncertain whether Kittle or Sanders will play this week. 
The 3-6-1 Cardinals come into the weekend on a 3 game losing streak, losing most recently to Tampa 30-27.
Kyler Murray and Christian Kirk showed everyone a possible glimpse into the future as the combo connected on 6 catches for 138 yards and 3 touchdown passes, including a 69 yard bomb. Murray has an incredible arm and once he gets comfortable in this offense, the league better watch out.
The Cardinal's David Johnson has been a real disappointment this year, he only has 302 yards rushing, which included the terrible 2 yards rushing on 5 attempts last week, before he was benched in the fourth quarter for newly acquired running back Kenyan Drake.
This week the Cardinals cannot rely solely on Murray when they face the top rated 49er's defense, they need Johnson or Drake to step up and take some pressure off the passing game to allow for possible play action to hit Kirk or Fitzgerald deep.
The current spread for this game is -10.5 points in favor of San Francisco, with the over under set at 45.
With the uncertainty of the injured Kittle and Sanders the 10.5 seems a bit high, but I believe the play on this game would be the under, with the 49er's only allowing 14.3 ppg and the Cardinals allowing 28.1 ppg, and if Kittle and Sanders are indeed out I don't foresee too many points being scored in this matchup.
Our Pick – 49ers -10