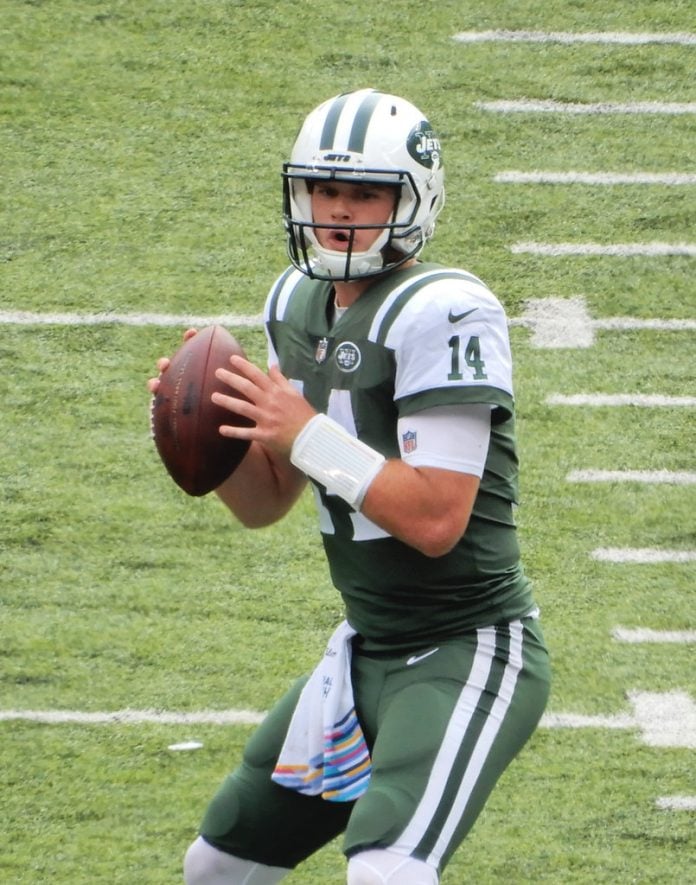 Dallas Cowboys vs. New York Jets – Week 6 NFL Betting Analysis
Dallas Cowboys (3-2 3-2 ATS) at New York Jets (0-4 1-3 ATS)
The Cowboys have lost two in a row and they face the winless Jets this Sunday as a 7-point road favorite with a total sitting at 43.
The public has really backed America's Team in this non-conference game, as the Cowboys opened as a 1.5-point favorite and as of Thursday are a seven-point favorite.
Dallas has lost two straight and are now tied with the Philadelphia Eagles atop the NFC East. They were at home in their last game losing to the Green Bay Packers 34-24 where they were down big early and while Dak Prescott passed for a career high in yards he was picked off three times.
The Jets have had a horrible season and have been playing their 3rd straight QB for the last couple of games. However, there is hope for them, as starter Sam Darnold is back under center after a bout of mono.
These teams met last in the 2015 season.
The Cowboys are 3-0-1 ATS in their last four games facing the Jets.
Not the Best Home Showing
In their last game the Cowboys did not give their home fans a good game losing 34-24 to the Packers. They ranked up a ton of yards and Prescott passed for 463 yards with a couple of TD but was picked three times. Most of his yard came in the comeback attempt in the 2nd half after the Cowboys were shut out in the first half.
Amari Cooper had 226 receiving yards with a TD and Michael Gallup chimed in for 113 receiving yards in the loss to Green Bay.
Ezekiel Elliot only rushed for 62 yards and while averaging a solid 5.2 yards per carry the Cowboys had to take the ball out of his hands and air it out in the 2nd half to comeback from their big deficit.
After rushing for 236 yards in two games Elliot has been held to 97 rushing yards in his last two games.
The Jets only rank 21st in the league in pass defense but a solid 7th in run defense and that run D will be tested with Elliot looking to break out for a big game.
The Franchise is Back
2nd year Franchise QB Sam Darnold is back after missing the last three games. The Jets could use him back to lead a passing offense that ranks dead last in the NFL.
The Jets spent a lot of money to bring in LeVeon Bell in the off-season, but so-far that has not been money well spent. He has only rushed for 206 yards in four games and for the season is only averaging 2.9 yards per carry.
In their last game the jets lost to the Philadelphia Eagles 31-6 and the team is only averaging 9.8 ppg. Bell only rushed for 43 yards averaging 2.9 yards per carry but did have seven catches for 45 yards.
Darnold will be playing behind a struggling offensive line that gave up nine sacks in their last game.
Dallas ranks in the top 13 in the NFL in both pass and run defense but that run defense was not great in the last game and look for them to get a heavy dose of Bell in this one.
Our Prediction
The Cowboys have covered the spread in four of their last five games facing a team with a losing record.
The Jets are 0-6-1 ATS in their last seven home games and 1-5-1 ATS in their last seven games overall.
The Cowboys have easily beaten three weak teams this season and lost against two good teams. Have to put the Jets in the weak team category, even with Darnold back, and America's Team will get back on track in this game behind a big game from Elliot and they will easily win and cover the spread. 
PICK: Cowboys -7