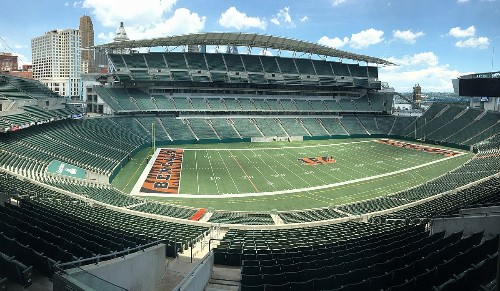 Baltimore is on top of the world this week, after beating the Patriots last week and now holding a 2 game lead in the division.
Lamar Jackson is having an MVP type season with 1,800 passing yards combined with 600 yard rushing yards. The run pass option seems unstoppable on short yardage downs, and always has the capability to break a 40-50 yard run at any time.
Last season when the Chargers faced the Ravens in the playoffs and really dominated the game in every way, scouts and TV analysts believed that the Lamar Jackson puzzle had been solved. Boy was everyone wrong.
Lamar burst back onto the scene week one against Miami and Arizona week 1 and 2, but took a few steps back against the Chiefs, Browns, and Steelers. His ability to bounce back in big games against the Seahawks and Patriots really showed everyone the run pass option is no gimmick and must be addressed seriously.
The Bengals on the other hand are now the only winless team left in the NFL and have decided to bench QB Andy Dalton and go with the 2018 4th round pick, QB Ryan Finley.
New head coach Zac Taylor was tagged as a quarterback guru, as he was highly praised for his work with Ram's QB Jared Goff, turning him into a pro-bowler as he led the team to the Super Bowl last season.
Turning to Finley now allows the coaching staff to evaluate him and decide if they need to cut bait and start the QB search over again with their presumed top 5 pick in the upcoming NFL Draft.
AJ Green is questionable to play this week, looking to play for the first time this season after injuring his ankle before the season. Baltimore also has a few key injuries on the report this week in with offensive lineman Yanda and Stanley both questionable.
Not having a healthy o-line could slow down Lamar this week and the spread at only -10 shows that Vegas is worried about Baltimore having a classic let down game, after beating the Pats.
Ravens coach John Harbaugh will have to really use all his energy to make sure his team is not going to sleep walk into Sunday and have a potential huge let down loss. These two teams played each other 4 weeks ago and Baltimore only won by 6 at home. So many variables going into this spread, with the rookie QB and the Baltimore O-line injuries.
Predicted Score – Ravens 31 Bengals 17