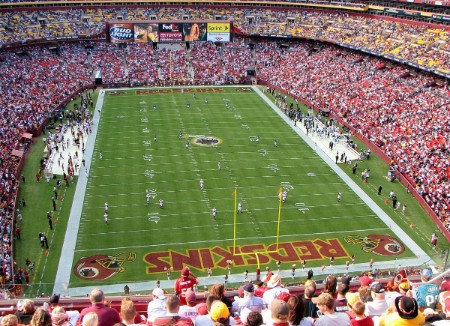 New York Jets (2-7, 3-6) vs Washington Redskins (1-8, 3-6)
Cellar dwellers from the AFC and NFC East, respectively, face off in a game where the real winner might be the loser by virtue of a higher position for next year's NFL Draft.
Odds makers listed this game as pick, but the Redskins are favored by 1-½ points despite not having scored a Touchdown in over a month. Yes, you read that correctly. The Redskins are favored against a team that won last week in spite of not reaching the end zone in over a month.
This weeks total opened at 38, but has trended as high as 39 at most sports books. The over has hit three consecutive times for the Jets. The Redskins have seen the under hit six games in a row leading up to this week.
Jets have momentum
New York won a game similar to this one just last week when they dispatched the Giants 34-27. Their stingy rushing defense held last year's #2 overall pick, RB Saquon Barkley, to a single yard on thirteen carries. Now, they face a team the Giants beat 24-3. A team led by a rookie QB, Dwayne Haskins, that, to put it kindly, is struggling to adapt to the pace of professional football.
Jets QB Sam Darnold was in the press this week for declarations that the Jets could still make a playoff run. The Jets remain high on themselves as they prepare to lineup against a Redskins team that seems to be going through the motions at this point of the season. If one of these teams has even an ounce of momentum in their favor it would be the Jets.
Redskins rushing o vs Jets rushing d key matchup
Head coach Bill Callahan is sticking with rookie Haskins at QB for the rest of the season. Judging from the press conference it seems apparent that they intend to keep things simple.
That means featuring other offensive players like last year's 59th overall pick, Derrius Guice, who will be playing for the first time since week one. It seems clear from this weeks practices that he is prepared to hit the ground running and take on a heavy workload.
This plan is obviously flawed based on how well the Jets #2 rushing defense is playing right now. New York will stack the box, stop the run and dare Haskins to beat them.
The Ohio State product has yet to throw a TD pass, but has thrown four interceptions in 44 passing attempts. Haskins is talented, but still quite young and inexperienced. Some players adapt to the NFL like ducks to water, but it will be an extended process for him. One that won't be fruitful for at least several more weeks if not next season.
Guice and Adrian Peterson are good players, but they have a huge task in front of them this week. If they succeed, although unlikely, the Redskins might have a chance. But it seems much more likely that Haskins is put in a position where he has to win the game and nothing he has done says he's ready for that.
Our Pick – Jets +110 ML