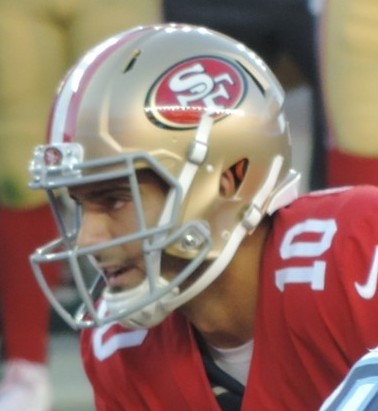 The 49ers are on the road for the 2nd week in a row and are a 2-point underdog facing the Cincinnati Bengals with a total of 45.
The 49ers were in Tampa Bay in their season opener and they beat the Buccaneers 31-17 with a decent performance from QB Jimmy Garoppolo, who missed most of last season with a knee injury.
Not many are giving the Bengals much of a chance to make the playoffs this season, but they were not bad in their season opener in a 21-20 loss to the Seattle Seahawks.
The 49ers had failed to cover the spread in four straight road games before doing so in the win over the Buccaneers last week.
While the Bengals are 1-5 ATS in their last five home games they covered in the season opener facing the Seahawks and have covered the spread in their last five games overall.
These teams have not met since the 2015 season.
Already ahead of Last Season
In the 49ers win over the Bucs in their opener they had three interceptions, two of which were returned for TD's, and they only had two INT all of last season.
San Francisco forced four turnovers and had two of them and the forced ones were key leading to two TD and because the team was outgained 295 yards to 256 yards.
In Garoppolo's first game back since missing almost all of last season with an injury he was 18/27 for 166 yards with a TD and an INT. He looked good one some plays and not so good in others., but the line did a good job in protecting him only giving up one sack.
TE George Kittle led the 49ers with 54 receiving yards and the team only rushed for 98 yards with Raheem Mostert with 40 rushing yards and Matt Breida only had 37 yards averaging a weak 2.5 yards per carry.
Jimmy G and the 49ers did not have a great game on offense against Tampa Bay and they will face a Cincy defense that was very solid against the pass and the run in their loss to Seattle.
Fumbles Hurt Cincy
In their one point loss to the Seahawks the Bengals had three lost fumbles and that really cost them in a the game where they outgained Seattle by nearly 200 yards (429 yards to 233 yards).
Andy Dalton may be on the hot seat this season as the signal caller for the Bengals, but while he did have two of their fumbles in the loss to Seattle, he also passed for 418 yards with two TD and was not picked off. John Ross III went for 158 yards and Dalton had a field day even though the team is still without star WR A.J. Green.
Good thing Dalton went off in the air, as Cincy had almost no ground game to speak of with only 34 rushing yards. Giovani Bernard only had 21 rushing yards and Joe Mixon, who rushed for 1,168 yards last season, only had 10 yards and six carries and is questionable for this game with an injury.
The 49ers defense was pretty good in the win over Tampa Bay and their pass rush was solid, which will be key for them in this game getting to Dalton.
Our Prediction
The 49ers have failed to cover the spread in four of their last five games following an ATS win while the Bengals are 9-4 ATS in their last 13 games following an ATS loss.
This game will be a close one, but for the 2nd straight week the 49ers will win and cover on the road with the difference being Garoppolo under center.
 PICK:49ers +2