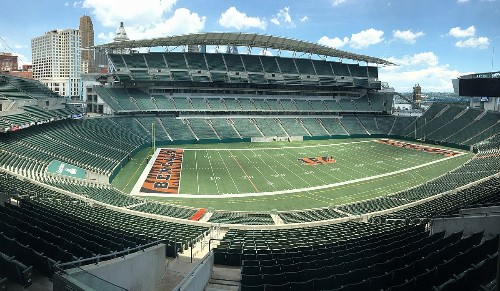 The Pittsburgh Steelers are a walking wounded football team coming into this week. Last week they lost their 2 top WR's in Juju and Dionte Johnson to concussions during the game, and also lost James Connor to shoulder injury that won't seem to go away for him.
All 3 are expected to miss this weekend's matchup against Cincinnati, along with OLB Bud Dupree and TE Nick Vannett is also listed as questionable.
The Steelers can't use the injury excuse this week though, as they are in a must win game if they want to stay in the hunt for a wildcard spot. 
The Bengals are 0-8 and in the middle of just a disaster of a season. They made the switch from Dalton to Ryan Finley who has started 2 games thus far and has looked terrible.
The offense has no life in it, you can blame some of that on Finley, but the running game this year has been nonexistent as Joe Mixon finally scored his first rushing touchdown last week.
The loss of AJ Green has also put a strain on the team, he is listed as Questionable for this week, but no one knows when or if he will be back this season.
With Juju and Dionte likely to both be out, James Washington is going to need to step up. The former 2nd round pick has shown flashes of big production this year but needs to show more consistency.
As many know he was teammates with QB Mason Rudolph in college and they broke every record imaginable together. They have the chemistry but now just need to show it on an NFL field. Look for a big game from Washington this week, as well as from TE Vance McDonald.
The Steelers are 6.5 point road favorites this week. The Steelers are 2-2 against the spread on the road this year, while Cincinnati is 0-4 ATS at home this year.
This matchup has been very one sided as Pittsburgh is 9-1 in head to head matchups and 6-3-1 against the spread in those last 10 games as well.
Our Pick – Steelers -6.5