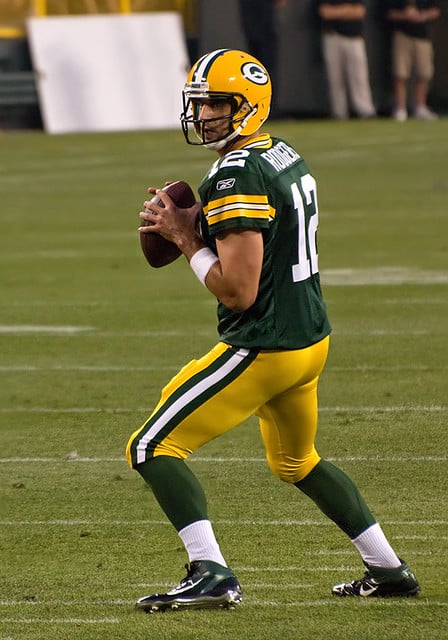 The Packers have had a less than stellar offseason, to say the least, and questions abound for the team that made the NFC title game last season.
The team did not draft any WR's in a draft loaded at that position and that was a glaring need for the team last season.
On top of that, they traded up to draft QB Jordan Love in the first round and that caused a lot of speculation about Rodgers and his future with the team.
Odds to win NFC North: +175
Odds to win NFC: +1300
Odds to win Super Bowl: +2500
Key Additions: Besides Love, in the first round the team took RB A.J. Dillion in the second round and he may have been a steal. WR Devin Funchess missed most of last season but is a legit target and team also picked up LB Christian Kirksey and T Rick Wagner, who should both start.
Key Losses: The Packers did not lose much in the off-season with the two main losses being TE Jimmy Graham and Geronimo Allison, who combined for 734 receiving yards last season.
Season Preview
Last season under first-year head coach Matt LaFleur the Packers were not so much a pass-first team. While Rodgers did not put up MVP numbers he still passed for 4,002 yards with 26 TD and only 4 INT.
Davante Adams is the #1 WR but after him, there are some question marks. Alan Lazard was solid last season after starting it on the practice squad and the team hopes Devin Funchess can get back to his past solid production after being injured last season.
The Packers have had some good WR's over the years but they have not used the draft or free agency to bring in top guys.
Since the 2006 draft, Green Bay ranks 29th in 29th in total draft capital spent on non-QB skill-position players (i.e., WR's, RB's, and TE's). Another shocking stat? In Rodgers' 364 career TD's only one has gone to a player drafted in the first round.
This compared to Drew Brees and Tom Brady, who have combined to throw 209 TD's to first-round players.
Aaron Jones rushed for over 1,000 yards last season and also had 474 receiving yards. He, Jamaal Williams, and rookie A.J. Dillion give Green Bay a legit run game, which they may use more this season even with two-time MVP in Rodgers under center.
The defense was a pretty good one and should be the same this season with mostly the same names back on that side of the ball. LB Blake Martinez had the second-most sacks in the league last season (155) and Preston Smith and Za'Darius Smith combined for 25.5 sacks.
The Packers have their work cut out for them, as the defending NFC North champions have a tough schedule, especially early in the season.
Two of their first three games are on the road facing the Vikings, season-opener, and the Saints and their next three road games in the first half are against the Bucs, Texans, and 49ers.
Prediction:  The Packers had a very colorful off-season with a lot of Drama. Still, the team has a good defense, what could be a great rushing attack, and that guy Rodgers. I see Green Bay winning the NFC North again and making another deep playoff run.