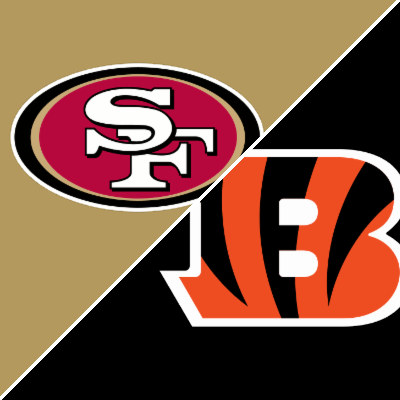 Both of these teams were flying high before losses in their last game and this non-conference game is a biggie for both, who need a win to keep their playoff hopes alive.
The oddsmakers have the 49ers as a slight 1-point road favorite with the total sitting at 48.5. The public has really backed San Fran in this one, as they opened as a 1-point underdog and as of Thursday are a 1-point favorite.
After Week 13 the 49ers are 6-6 and 5-7 ATS and the Bengals are 7-5 and 6-6 ATS.
The 49ers had won three in a row before their last game where they lost on the road to a Seahawks team that came into the game really struggling. San Francisco had more overall yards but only rushed for 71 yards and they were shutout in the second half.
The Bengals came into their last game winning two in a row but had a terrible start in a 41-22 home loss to the L.A. Chargers. Cincy was down 24-0 early in the second quarter and Joe Burrow was picked off two times.
These teams met last in the 2019 season. The 49ers are 3-1-1 ATS in their last five games against the Seahawks.
Holding On
The 49ers need a win and even though they would make the playoffs f the season ended today they would be the last seed in the NFC.
Jimmy Garoppolo has been decent on the season and after three solid games he has not been so great in the last two games with three TD to go with three INT. It has not helped that his main target in WR Deebo Samuel, who has the fourth most receiving yards in the league, is banged up and missed the last game. He is listed as questionable for this game and in his last two only has 27 yards.
Lead RB Elijah Mitchell (759 yards 5 TD) is also listed as questionable and should go, but after 224 rushing yards in two 49ers wins he had 66 rushing yards in the last game where he only averaged three yards per carry.
The run game is key for San Fran but will be facing a Cincy run defense that ranks fourth in the league while their pass D only ranks 27th.
Not the Same Team
After winning two in a row where the Bengals outscored their opponents 73-23, they did not look like the same team in the last game in the 41-22 loss to the Chargers.
Joe Burrow (3,135 yards 23 TD 14 TD) is a little banged up but will go and he has to step up his game late in the season. He leads the NFL with 14 INT and has five in the last four games where he only has three TD.
Burrow has the targets in Ja'Marr Chase and Tee Higgins, who have combined for 1,656 receiving yards and he needs to get Chase more involved, as he has cooled off after a hot start.
After rushing for at least 123 yards in two straight games Joe Mixon (978 yards 12 TD) only rushed for 54 yards in the last game. He missed practice Wednesday due to a non-COVID-19 illness and is questionable but should go.
San Fran ranks a legit fourth in pass defense but only 18th in run defense and if Mixon is good to go expect the 49ers to see a lot of him.
The Prediction 
The Bengals have failed to cover in their last five home games but do not look for that trend to continue. They are home dogs in this one but they have the better run game and the better QB if Burrow can cut down on the picks. I look for Cincy to play well on both sides of the ball and while they will not kill it on offense, they will move the ball and Burrow will not turn the ball over often. In a close game the Bengals will pull off the win behind a balanced performance.
PICK:  Bengals +1