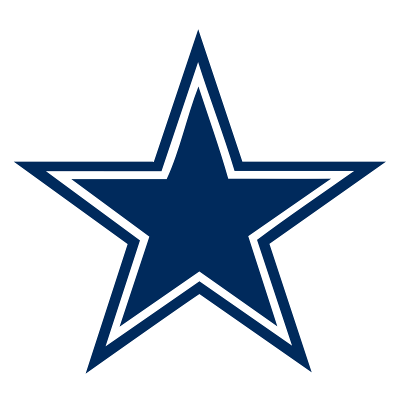 Dak Prescott is back and healthy and finally got a long-term contract but is he enough to get America's Team back to the playoffs?
Odds to win the Super Bowl: +3000
Odds to win the NFC: +1500
Odds to win the NFC East: +130
Last season the Cowboys were 6-10 and ranked 17th in the league in points and only 28th in points allowed. Mike McCarthy is only in his second season with the team but he may already be on the hotseat.
The defense was bad last season in the Big D but there is hope with many new faces on D through the draft and a new defensive coordinator in Dan Quinn.
Prescott Coming Off Injury
Prescott is coming off an ankle injury that prematurely ended his season last year and he heads into camp healthy and may not even play in the preseason. In the five games before his injury the Cowboys' offense averaged 31.5 points and 509.5 yards per game.
There is no lack of talent around Prescott at the WR position with Amari Cooper, CeeDee Lamb, and Michael Gallup, who combined for 225 catches for 2,892 yards and 15 TD last season.
Ezekiel Elliot had the worst season of his career in 2020 averaging 4.0 yards per carry and 65.3 rushing yards per game.
However, the team leaned on him more when Prescott went down and before he did Elliot was averaging over 100 yards per game and had six TD. If the offense does not revolve around him, he may come back and have a big season.
The offensive line was decimated by injuries last season and it showed. Tyron Smith, La'el Collins, and Zack Martin have combined for 13 Pro Bowls and they combined to miss 36 games last season. They are healthy again and if they are Dallas should be back as a team with one of the best offensive lines in the NFL.
Defense Allowed Most Points in Franchise History
The defense for the Cowboys last season gave up the most points in franchise history. DeMarcus Lawrence has not lived up to his massive contract signed in 2019 and Randy Gregory missed 10 games due to suspension last season and that has been his history since being drafted in the second round in 2015.
However, the team added a solid LB in Keanu Neal and used their first and second round draft picks on LB Micah Parsons and CB Kelvin Joseph.
The Dallas CB duo of Trevon Diggs and Kelvin Joseph, the second-round picks in the last two season, has a chance to be special and the club upgraded the safety position bringing in a couple of good free agents in Damontae Kazee, Jayron Kearse.
The Cowboys play in the weak NFC East but still have a pretty tough schedule. They open with games facing the Buccaneers and Chargers. They also have non-division games facing the Patriots, Saints, Chiefs, Vikings, Raiders, and Saints.
Dallas ends the season playing division foes in their last five games including defending NFC East champion Washington twice.
Season Outlook
Prescott was on pace for a monster season last year before being lost in Week 5. He will bounce back and I also look for Elliot and the offensive line to do the same. The defense will be better than last season but still the weakness of the club.
Still, with Prescott firing on all cylinders he will guide an offense that will be hard to stop. As much as I hate to say it as a Washington fan, America's Team is back and they will win the NFC East this season and may be a dark horse Super Bowl contender.